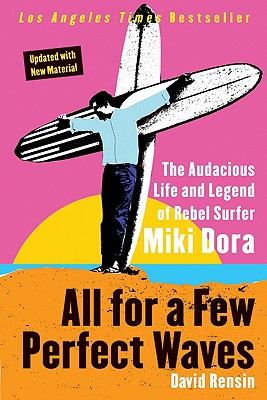 All for a Few Perfect Waves: The Audacious Life and Legend of Rebel Surfer Miki Dora
Publication Date:
March 24th, 2009
Usually Ships in 1 to 5 Days
Description
For twenty years, Miki "Da Cat" Dora was the king of Malibu surfers—a dashing, enigmatic rebel who dominated the waves, ruled his peers' imaginations, and who still inspires the fantasies of wannabes to this day. And yet, Dora railed against surfing's sudden post-Gidget popularity and the overcrowding of his once empty waves, even after this avid sportsman, iconoclast, and scammer of wide repute ran afoul of the law and led the FBI on a remarkable seven-year chase around the globe in 1974. The New York Times named him "the most renegade spirit the sport has yet to produce" and Vanity Fair called him "a dark prince of the beach." To fully capture Dora's never-before-told story, David Rensin spent four years interviewing hundreds of Dora's friends, enemies, family members, lovers, and fellow surfers to uncover the untold truth about surfing's most outrageous practitioner, charismatic antihero, committed loner, and enduring mystery.
Praise for All for a Few Perfect Waves: The Audacious Life and Legend of Rebel Surfer Miki Dora
"The most complete portrait of Dora ever painted, but also a solid recounting of surfing's original boom years and a thin, peculiar slice of Americana in the late 1950s and early 60s... All for a Few Perfect Waves is much more than just another day at the beach." — Los Angeles Times Book Review
"Until now enigmatic surfer legend Miki Dora's history was written only in water, but David Rensin's primo All for a Few Perfect Waves catches the life of this charismatic renegade." — Vanity Fair
"Engrossing… Rensin proves an inexhaustible interviewer, teasing out colorful tales never before set in print." — Men's Vogue
"In this vivid biography, Rensin takes on a daunting task: to clarify the clouded myth of legendary surfer Miki Dora ... Rensin lets Dora's friends, lovers and rivals tell the story. The result brings a remarkable focus to a man whose greatest accomplishments were written on water." — Publishers Weekly
"Above and beyond the call of unearthing the mystery that was Dora…a stunningly comprehensive tome…[an] incomparable body of work which will mess with both your mind and heart, the likes of which may forever set the literary sandbar, and rightfully so." — Eastern Surf Magazine
"Waves attempts to decode Dora through a near-cacophony of storytellers, ranging from the personal and intimate (ex-lovers and family) to the scurrilous and picaresque (whore-hopping pals, partners in crime)… should close the door on the need for further explorations of Da Cat." — The Surfer's Journal
"David Rensin doesn't shy from documenting Dora's multitude of sins—the stealing and swindling, the juvenile pranks, the prison terms—even as he celebrates the man's desire to live of a life of utter, and often utterly irresponsible, freedom." — Los Angeles Magazine
"Miki took to his grave many stories that no one will ever know, but this book will also tell many and give new insight into his life. In the end only a select group knew the real person. I'm not sure I did-but almost." — Kelly Slater, best-known surfer in the world
"For fifty years, surfing in Southern California has been shrouded in a myth wrapped in an enigma by the name of Miki Dora. Now, we have the facts. A magnificent book." — Kevin Starr, California Librarian Emeritus and professor at University of Southern California
"From the depths of hell to flying as high and as free as an eagle - and everything in between - All For a Few Perfect Waves left me laughing and crying at the same time." — Greg Noll, world-renowned big wave rider
" In times like these it turns out not only is there an oral history of Miki Dora, there must be. Great reportage." — Stephen Gaghan, surfer, screenwriter/director (Traffic, Syriana)
"David Rensin has found the perfect subject. You may like Dora. You may hate him. But you will never ever tire of him through the very impressive shine of Rensin's reporting and writing." — Buzz Bissinger, author of Friday Night Lights
"[Rensin's] bio of Miki Dora, the original maverick surfer, gets his story right." — Outside magazine
"… a candid portrait... This book isn't just about surfing; it's about risking it all for complete personal freedom." — Playboy