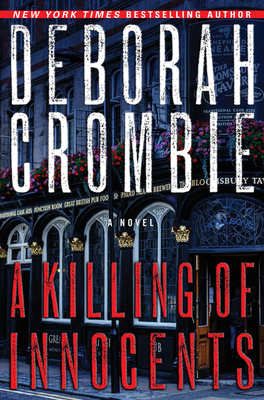 A Killing of Innocents: A Novel (Duncan Kincaid/Gemma James Novels #19)
Publication Date:
February 7th, 2023
Publisher:
William Morrow
The Winchester Book Gallery
2 on hand, as of Dec 10 9:52pm
(Fiction)
On Our Shelves Now
Description
New York Times bestseller Deborah Crombie returns with a "gripping police procedural" (Washington Post) featuring Scotland Yard detectives Duncan Kincaid and Gemma James as they race to solve the shocking murder of a young woman before panic spreads across London.
On a rainy November evening, trainee doctor Sasha Johnson hurries through the evening crowd in London's historic Russell Square. Out of the darkness, someone jostles her as they brush past. A moment later, Sasha stumbles, then collapses. When Detective Superintendent Duncan Kincaid and his sergeant, Doug Cullen, are called to the scene, they discover that she's been stabbed. 
Kincaid immediately calls in his detective wife, Gemma James, who has recently been assigned to a task force on knife crimes which are on the rise. Along with her partner, detective sergeant Melody Talbot, Gemma aids the investigation. But Sasha Johnson doesn't fit the profile of the task force's typical knife crime victim. Single, successful, career-driven, she has no history of abusive relationships or any connection to gangs. Sasha had her secrets, though, and some of them lead the detectives uncomfortably close to home.
As the team unravels the victim's tangled connections, another murder raises the stakes. Kincaid, Gemma, and their colleagues must put even friendships on the line to find the killer stalking the dark streets of Bloomsbury.
Praise for A Killing of Innocents: A Novel (Duncan Kincaid/Gemma James Novels #19)
"My most recent crime read was A Killing of Innocents by Deborah Crombie. New to the series but got pulled in immediately by the interesting plot and engaging range of recurring characters." — Ann Cleeves, New York Times bestselling author
"Situated in the rich, historic Bloomsbury district of London, A Killing of Innocents is a superbly plotted work of suspense that immerses the reader in the intriguing world of Scotland Yard. But Crombie also gifts us something equally compelling: a very modern portrait of richly intertwined and diverse characters navigating the competing demands of work, family and romance. There is such humanity in all of Crombie's creations, particularly the lead married detectives Gemma James and Duncan Kincaid, making this stand-alone book and its background series such a noteworthy and satisfying addition to the genre of psychological suspense." — Natalie Jenner, international bestselling author 
"Her new book, A Killing of Innocents, was worth the wait as Crombie once again showcases her ability to intertwine family drama with a gripping police procedural. Crombie fans will welcome updates on Duncan, Gemma and other favorite characters, but A Killing of Innocents stands on its own for anyone new to the series. — Washington Post
"Crombie's plotting proficiency trumps the musings of readers as they try, usually sans success, to outwit her. She also excels in conceptualizing and achieving characters with vision, wisdom and, in most cases, sympathy. A Killing of Innocents is no exception. A winning blend of police procedural and psychological inquiry, Crombie's latest novel offers — as does her entire canon — intelligent crime fiction that defines and transcends the genre." — Fredericksburg Free Lance-Star
"Crombie is as skilled as Louise Penny or J.D. Robb in developing characters while entwining personal lives with riveting police investigations. With four years since A Bitter Feast, the previous book in the series, the author's fans will be eager to catch up with her characters." — Library Journal (starred review)
"Skillfully plotted... perfectly balances the investigative action with the characters' true to life personal problems... Crombie provides plausible suspects and motives amid entertaining interplay, including some friction, among the members of the squad. This entry can be read as a standalone, but it will give special pleasure to fans who have grown fond of the couple over the years."  — Publishers Weekly
"Crombie, as usual, presents a fascinating puzzle, loaded with twists and a grand dose of London atmosphere...This is a worthy excursion into the lives of a popular sleuthing duo." — Booklist
"Crombie excels at weaving together a cohesive story out of disparate circumstances and characters. The thread that ties the book together is the visceral horror that deliberate violence can be and is visited on innocents. A Killing of Innocents is rooted in the relationship between Duncan and Emma; how their careers impact their family life and friendships. It's absorbing, nuanced, and true to the personalities of two people we've come to regard as almost family." — CriminalElement.com
"We can always count on her for fabulous plots...But what puts Deborah Crombie among the greats is her sure hand in raising her characters off the page." — Louise Penny, New York Times bestselling author
"Nobody writes the modern English mystery the way Deborah Crombie does—and A Bitter Feast is the latest in a series that is gripping, enthralling, and just plain the best." — Charles Kaiser, The Guardian
"A Bitter Feast is a rich banquet for mystery lovers. Three cheers for the chef, Deborah Crombie!"
— Alan Furst
"Deborah Crombie continues to push the envelope, writing books that are new, different and better and better. Richly layered, character-driven, and with an evocative sense of place, A Bitter Feast truly transcends the genre." — Rhys Bowen, New York Times bestselling author of the Royal Spyness series and the international bestseller The Tuscan Child
"A Bitter Feast is a fast-paced mystery with wonderfully developed characters and a storyline that makes it hard to put down."  — San Francisco Book Review