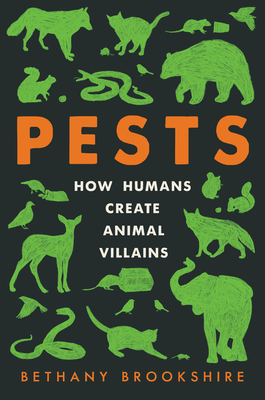 Pests: How Humans Create Animal Villains
Publication Date:
December 6th, 2022
Usually Ships in 1 to 5 Days
Description
An engrossing and revealing study of why we deem certain animals "pests" and others not—from cats to rats, elephants to pigeons—and what this tells us about our own perceptions, beliefs, and actions, as well as our place in the natural world
A squirrel in the garden. A rat in the wall. A pigeon on the street. Humans have spent so much of our history drawing a hard line between human spaces and wild places. When animals pop up where we don't expect or want them, we respond with fear, rage, or simple annoyance. It's no longer an animal. It's a pest.
At the intersection of science, history, and narrative journalism, Pests is not a simple call to look closer at our urban ecosystem. It's not a natural history of the animals we hate. Instead, this book is about us. It's about what calling an animal a pest says about people, how we live, and what we want. It's a story about human nature, and how we categorize the animals in our midst, including bears and coyotes, sparrows and snakes. Pet or pest? In many cases, it's entirely a question of perspective.
Bethany Brookshire's deeply researched and entirely entertaining book will show readers what there is to venerate in vermin, and help them appreciate how these animals have clawed their way to success as we did everything we could to ensure their failure. In the process, we will learn how the pests that annoy us tell us far more about humanity than they do about the animals themselves. 
Praise for Pests: How Humans Create Animal Villains
"👍!" — Mary Roach, author of Fuzz: When Nature Breaks the Law
"Deeply reported and vividly told, Brookshire's exploration of our most reviled animal neighbors will forever change how you see nature and our relationship to it. Elephants and boas and bears, oh my! Pests is natural history writing at its best." — Riley Black, author of The Last Days of the Dinosaurs: An Asteroid, Extinction, and the Beginning of Our World
"Brookshire convincingly argues that many of the problems we blame on pests arise not from the creatures themselves but from our own self-centered ways of looking at the world. A fascinating look at how culture, traditions, and human behavior shape the way people coexist or come into conflict with the animals that share their habitats." — Christie Aschwanden, author of Good to Go: What the Athlete in All of Us Can Learn from the Strange Science of Recovery
"As human populations expand and the climate changes, these animals are not going away. Brookshire has a magnificent ability to bring the ecological context of our epic conflicts with everything from snakes to elephants down to the entertaining and personal." — John Shivik, author of The Predator Paradox: Ending the War with Wolves, Bears, Cougars, and Coyotes
"A deeply thoughtful yet entertaining tour of our thorny and morally complicated relationships with the creatures we consider pests. Integrating first-rate storytelling with ecology, natural history, wildlife management, cultural anthropology, and ethics, Pests provides a compelling perspective on a misunderstood aspect of human-animal interactions." — Hal Herzog, author of Some We Love, Some We Hate, Some We Eat: Why It's So Hard to Think Straight About Animals
"In this scintillating, searching, and surprisingly funny debut, Brookshire weaves together history, research, and Indigenous knowledge to reveal our complicity in creating animal conflict—and argues for a new model of coexistence in which neither we nor the animals have to end up as the villains." — Maryn McKenna, author of Big Chicken, Superbug, and Beating Back the Devil
"[An] excellent natural history...the author delivers fascinating accounts of a score of widely deplored pests...Outstanding, possibly mind-changing natural history." — Kirkus Reviews (starred review)
"…An eye-opening account of why certain animals are demonized…Animal lovers will adore this clever survey."
— Publishers Weekly (starred review)
"An entertaining and pensive perusal of the human-wildlife conflict problem that calls to mind Mary Roach's Fuzz." — Booklist