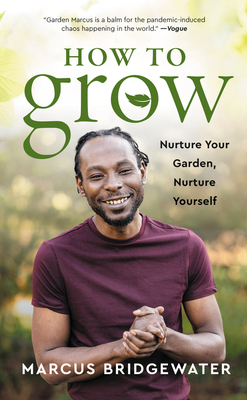 How to Grow: Nurture Your Garden, Nurture Yourself
Publication Date:
May 24th, 2022
Usually Ships in 1 to 5 Days
Description
In this transformative guide, TikTok's most popular gardener, Marcus Bridgewater—aka Garden Marcus—offers lessons for growth rooted in lessons from the plant world to help cultivate the soul.
Marcus Bridgewater has been compared to Bob Ross and Mister Rogers for his soothing TikTok videos that relate botany to humanity. A gardener "who shares tips about caring for one's plants and oneself" (New York Times) and "is not only a trove of information if you're looking to flex your green thumb, but a balm for the pandemic-induced chaos happening in the world" (Vogue), his soothing observations on plants and life have made him a social media star. In caring for over 600 plants, Marcus has gained invaluable wisdom. Life inside us yearns to grow; like plants, humans maximize their potential when presented with the right conditions. Through care and attention, he reminds us, we can successfully cultivate growth. 
Centered on a trinity of wellbeing—Mental Health, Physical Fitness, and Spiritual Awareness, How to Grow weaves together insights from the garden with stories from Marcus's life to help you foster personal development. With lessons rooted in his experiences gardening—from how a replanted flourishing sweet potato vine is a reminder that all living things benefit from a change of scene, to how to embrace patience to foster growth—this inspiring guide helps you do "the dirty work" (pun intended) to discover kindness, patience, and positivity within. "We cannot make anything grow," he advises. "But we can foster an environment where it may grow."
How to Grow isn't a gardening book. It is a self-help book that draws inspiration from the garden. Original, timely, and filled with nurturing wisdom, it takes perennial knowledge from plants to teach us about ourselves and opens our eyes to what we are capable of achieving.
Praise for How to Grow: Nurture Your Garden, Nurture Yourself
"Marcus Bridgewater, who posts on TikTok as Garden Marcus, shares tips about caring for one's plants and oneself."  — New York Times
"Garden Marcus is not only a trove of information if you're looking to flex your green thumb, but a balm for the pandemic-induced chaos happening in the world."  — Vogue
"Marcus does a stunning job at giving us a soft place to land and explore what it means to lean into our growth with grace, patience, and compassion. This collection is necessary and beautiful! It should be required reading." — Alexandra Elle, Author of After the Rain and How We Heal
"Bridgewater's planting tips are just as valuable when applied to life."  — The Root
"In his new book, Garden Marcus sows a nurturing philosophy." — Texas Standard Daily News