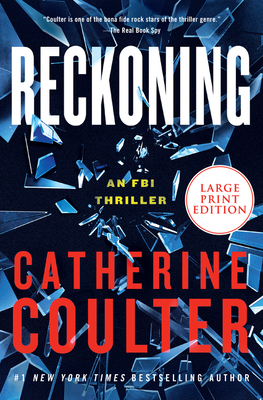 Reckoning: An FBI Thriller
Publication Date:
August 2nd, 2022
Publisher:
Harper Large Print
Usually Ships in 1 to 5 Days
Description
NEW YORK TIMES BESTSELLER
Agents Savich and Sherlock are back in the latest installment in Catherine Coulter's #1 New York Times bestselling FBI Thriller series, and this time both are enlisted to help women with traumatic pasts who are in mortal danger.
When she was twelve years old, Kirra Mandarian's parents were murdered and she barely escaped with her life. Fourteen years later Kirra is a commonwealth attorney back home in Porte Franklin, Virginia, and her goal is to find out who killed her parents and why. She assumes the identity of E.N.—Eliot Ness—and gathers proof to bring down the man she believes was behind her parents' deaths. She quickly learns that big-time criminals are very dangerous indeed and realizes she needs Dillon Savich's help. Savich brings in Special Agent Griffin Hammersmith to work with Lieutenant Jeter Thorpe, the young detective who'd saved Kirra years before.
Emma Hunt, a piano prodigy and the granddaughter of powerful crime boss Mason Lord, was only six years old when she was abducted. Then, she was saved by her adoptive father, San Francisco federal judge Ramsey Hunt. Now a twelve-year-old with a black belt in Tae Kwon Do, she narrowly saves herself from a would-be kidnapper at Davies Hall in San Francisco. Worried for her safety, Emma's entire family joins her for her next performance, at the Kennedy Center in Washington, D.C.. Sherlock and officers from METRO are assigned to protect her, but things don't turn out as planned…
Praise for Reckoning: An FBI Thriller
"Pulse-pounding terror mixed with romance makes for page-turning pleasure." — Kirkus Reviews on Reckoning
"Propulsive…Scintillating suspense…Series fans will be riveted from the very first page." — Publishers Weekly on Reckoning
"The twenty-sixth installment of Coulter's FBI series delivers just what the author's fans have come to expect: a story that doesn't go where we might expect it to; a supporting cast of new and exciting characters; and two familiar faces, Savich and Sherlock, who have come to feel like old friends." — Library Journal on Reckoning
"The action never stops…Catherine Coulter's F.B.I. books with Savich and Sherlock are always great reads and as they keep going, this is #26, they just get better." — Fresh Fiction on Reckoning
"Coulter is always good, but in Vortex she uses her considerable talents to spin a complex tale of escalating stakes in a full-bore thriller that is not to be missed." — Providence Journal
"A missing person's case kicks off bestseller Coulter's nail-biting 25th FBI thriller… Coulter does her usual fine job of building suspense by shifting between the parallel narratives. This long-running thriller series shows no sign of losing steam." — Publishers Weekly on Vortex
"If you are looking for a roller coaster, highly emotional ride then you will really want to sit down with Vortex in your hands…Vortex—by definition is a 'whirling mass like a whirlpool or whirlwind' and Catherine Coulter knows how to catch her readers in one…As always with Ms. Coulter's books, Vortex will captivate and fascinate." — Fresh Fiction
"Coulter… knows who her characters are, and what motivates them, and she knows what kind of adversary to put up against them… [The FBI novels] are suspenseful and surprising, and they have earned their large following. Vortex will be received enthusiastically." — Booklist
"A new release from Catherine Coulter is always a special treat for suspense thriller fans—fans who will devour Vortex…[a] fast-paced, action-filled read."  — The Big Thrill
"Intricate... Coulter expertly weaves all the plot threads together. Fans of extravagant thrillers with a paranormal tinge will be satisfied." — Publishers Weekly on Deadlock
"Eerie, unsettling, and breathlessly terrifying, Paradox is another gripping read from Catherine Coulter, who, at twenty-two books into her bestselling series and counting, shows no signs whatsoever of slowing down anytime soon." — The Real Book Spy
"Seductive and menacing… [Enigma] sets new standards to judge thrillers. It's a thriller most people would like to finish in one sitting…. Intense and packed with the action and inventive fantasy Catherine Coulter is known for." — Washington Post Book Review
"A breakneck plot, magnetic characters and just enough romance to make everything sizzle—that is to say, exactly what the world loves about [Coulter's] best-selling FBI series…. The double-barreled plot explodes in the first chapter and doesn't slow down until the breathtaking end. — Huffington Post on Bombshell
"All the elements of a real spellbinder: glamour, romance… murder, colorful characters, sinister settings and a hidden motive for revenge that goes back decades. The plot twists at every turn…. Excellent." — San Diego Union-Tribune on Riptide
"Pulse-pounding… Coulter fans will have a tough time putting this one down." — Publishers Weekly on Paradox
"A master of smooth, eminently readable narratives."  — Booklist
"Catherine Coulter is one of the bona fide rock stars of the thriller genre, and her last book, Paradox, was as good as anything she's written. Labyrinth promises to be another 'white-knuckled' thriller." — The Real Book Spy
"One of the reasons this long-running series keeps on being so entertaining is the combination of eerie and twisted plotline and engaging characters who continue to grow. Coulter is a true master!" — RT Book Reviews