Discounted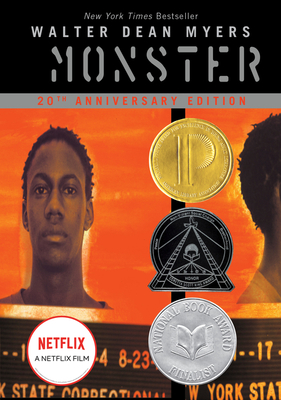 Monster
Previous price:

$15.99
Current price:

$12.99
Publication Date:
March 5th, 2019
Publisher:
Amistad Books for Young Readers
Usually Ships in 1 to 5 Days
Description
This New York Times bestselling novel from acclaimed author Walter Dean Myers tells the story of Steve Harmon, a teenage boy in juvenile detention and on trial. Presented as a screenplay of Steve's own imagination, and peppered with journal entries, the book shows how one single decision can change our whole lives. 
Monster is a multi-award-winning, provocative coming-of-age story that was the first-ever Michael L. Printz Award recipient, an ALA Best Book, a Coretta Scott King Honor selection, and a National Book Award finalist.
Monster is now a major motion picture called All Rise and starring Jennifer Hudson, Kelvin Harrison, Jr., Nas, and A$AP Rocky.
The late Walter Dean Myers was a National Ambassador for Young People's Literature, who was known for his commitment to realistically depicting kids from his hometown of Harlem.
Share this highly readable novel at home or in the classroom—it's sure to spark debate and conversation. Walter Dean Myers said: "I would like young people to consider what happened to Steve Harmon, as well as why. There were decisions that Steve made and some he clearly should have made, but didn't. As the author, I'll be satisfied if the reader forms his or her own opinion about these decisions and the consequences."
Praise for Monster
"Chilling and engrossing." — New York Times
"A riveting courtroom drama that will leave a powerful, haunting impression on young minds." — Publishers Weekly (starred review)
"A novel that in both form and subject guarantees a wide teen audience." — Horn Book (starred review)
"A riveting novel with breathless, edge-of-the-seat courtroom scenes. Taut and moving." — Kirkus Reviews
"The sheer authenticity of the novel and its presentation are disquieting—and totally riveting." — Boston Globe-Horn Book Award Committee
"The drama of the situation and the ethical questions raised will keep the audience not just reading but thinking." — Bulletin of the Center for Children's Books
"A fascinating portrait of a terrified young man wrestling with his conscience. The tense drama of the courtroom scenes will enthrall readers, but it is the thorny moral questions raised in Steve's journal that will endure in readers' memories."
— Booklist
"Monster is a subtle and provocative novel about what it means to be alive in our time." — Riverbank Review
"Riveting. An emotionally charged story that readers will find compelling and disturbing." — School Library Journal
"The youthful, vulnerable voice will draw in YA readers, boys and girls." — Voice of Youth Advocates (VOYA)
"The unusual format and easy style combines with powerful content to make an unforgettable book." — Language Arts