Discounted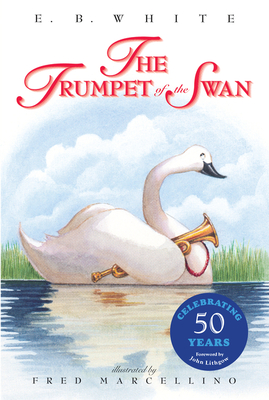 The Trumpet of the Swan 50th Anniversary
Previous price:

$9.99
Current price:

$8.99
Publication Date:
September 1st, 2020
Usually Ships in 1 to 5 Days
Description
The delightful classic by E. B. White, author of Charlotte's Web and Stuart Little, about overcoming obstacles and the joy of music. 
Like the rest of his family, Louis is a trumpeter swan. But unlike his four brothers and sisters, Louis can't trumpet joyfully. In fact, he can't even make a sound. And since he can't trumpet his love, the beautiful swan Serena pays absolutely no attention to him.
Louis tries everything he can think of to win Serena's affection—he even goes to school to learn to read and write. But nothing seems to work. Then his father steals him a real brass trumpet. Is a musical instrument the key to winning Louis his love?
"We, and our children, are lucky to have this book." —John Updike
The Trumpet of the Swan joins E. B. White favorites Charlotte's Web and Stuart Little as classic illustrated novels that continue to speak to today's readers. Whether you curl up with your young reader to share these books or hand them off for independent reading, you are helping to create what are likely to be all-time favorite reading memories.
About the Author
E. B. White, the author of such beloved classics as Charlotte's Web, Stuart Little, and The Trumpet of the Swan, was born in Mount Vernon, New York. He graduated from Cornell University in 1921 and, five or six years later, joined the staff of The New Yorker magazine, then in its infancy. He died on October 1, 1985, and was survived by his son and three grandchildren.
Mr. White's essays have appeared in Harper's magazine, and some of his other books are: One Man's Meat, The Second Tree from the Corner, Letters of E. B. White, Essays of E. B. White, and Poems and Sketches of E. B. White. He won countless awards, including the 1971 National Medal for Literature and the Laura Ingalls Wilder Award, which commended him for making a "substantial and lasting contribution to literature for children."
During his lifetime, many young readers asked Mr. White if his stories were true. In a letter written to be sent to his fans, he answered, "No, they are imaginary tales . . . But real life is only one kind of life—there is also the life of the imagination."
Fred Marcellino's picture books include Puss in Boots, a Caldecott Honor Book; The Steadfast Tin Soldier, an ALA Booklist Children's Editors' Choice; and The Pelican Chorus, one of School Library Journal's Best Books of the Year.
His most recent books, The Story of Little Babaji and Ouch! are both ALA Notable Children's Books.
Dancing By the Light of the Moon: The Art of Fred Marcellino will open on November 9, 2002 and run through January 26, 2003 at The Norman Rockwell Museum in Stockbridge, Massachusetts. This is a comprehensive show of more than 150 pieces highlighting his children's book career, and the first museum retrospective honoring the artistic accomplishments of this remarkable artist. For more information visit, The Norman Rockwell Museum website.