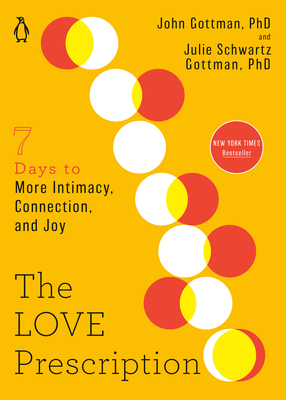 The Love Prescription: Seven Days to More Intimacy, Connection, and Joy (The Seven Days Series #1)
Publication Date:
September 27th, 2022
Usually Ships in 1 to 5 Days
Description
INSTANT NEW YORK TIMES BESTSELLER
"This book feels so hopeful because it's direct, it's really honest, and it's so actionable." —Brene Brown
From New York Times–bestselling authors Dr. John Gottman and Dr. Julie Schwartz Gottman, a simple yet powerful plan to transform your relationship in seven days
What makes love last? Why does one couple stay together forever, while another falls apart? And most importantly, is there a scientific formula for love?
 
Drs. John Gottman and Julie Schwartz Gottman are the world's leading relationship scientists. For the past forty years, they have been studying love. They've gathered data on over three thousand couples, looking at everything from their body language to the way they converse to their stress hormone levels. Their goal: to identify the building blocks of love.
  
The Love Prescription distills their life's work into a bite-size, seven-day action plan with easy, immediately actionable steps. There will be no grand gestures and no big, hard conversations. There's nothing to buy or do to prepare. Anyone can do this, from any starting point.
The seven-day prescription will lead you through these exercises:
Day 1: Make Contact
Day 2: Ask a Big Question
Day 3: Say Thank You
Day 4: Give a Real Compliment 
Day 5: Ask for What You Need
Day 6: Reach Out and Touch
Day 7: Declare a Date Night
There is a formula for a good relationship, and this book will show you how a few small changes can fundamentally transform your relationship for the better.
Praise for The Love Prescription: Seven Days to More Intimacy, Connection, and Joy (The Seven Days Series #1)
Praise for Drs. John and Julie Gottman and The Love Prescription

"Think you can't make relationship changes in a week? Drs. John and Julie Gottman say, yes, actually, you can—and they have 40 years of breakthrough research on marital stability and divorce prediction to prove it. . . . This book feels so hopeful because it's direct, it's really honest, and it's so actionable."
—Brene Brown
"By distilling decades of research into seven simple strategies, their book can offer an intervention that is easy and fun. There are no hard conversations required . . . Each chapter introduces a specific relationship-building exercise that can help in any relationship stage . . . It reminded us that no matter how busy we get, we do actually have enough time to be kind to each other."
—The New York Times
"The Gottmans are the nation's leading marriage researchers and educators."
—Time

"John and Julie Gottman are the renowned experts on marital stability."
—The Atlantic

"The Einstein of Love."
—Psychology Today
"Whether you're looking to fix specific problems or get the most out of your marriage or romantic relationship, couples therapists John and Julie Gottman will get you moving in the right direction. . . . There isn't a marriage or romantic partnership out there that won't benefit from this book."
—New York Journal of Books
"A road map toward a better marriage. . . . The authors have devised simple practices designed to teach partners how to relate to each other in productive ways. . . . Warm encouragement for healing troubled relationships."
—Kirkus Reviews
"The astute guidance is straightforward without being obvious, and the authors excel at distilling sharp lessons from client stories. Couples should consider making this enlightening guide required reading."
—Publishers Weekly (starred review)