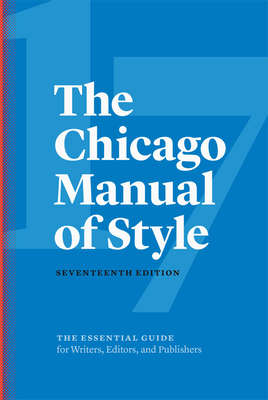 The Chicago Manual of Style, 17th Edition
Publication Date:
September 5th, 2017
Publisher:
University of Chicago Press
Usually Ships in 1 to 5 Days
Description
Technologies may change, but the need for clear and accurate communication never goes out of style. That is why for more than one hundred years The Chicago Manual of Style has remained the definitive guide for anyone who works with words.
In the seven years since the previous edition debuted, we have seen an extraordinary evolution in the way we create and share knowledge. This seventeenth edition of The Chicago Manual of Style has been prepared with an eye toward how we find, create, and cite information that readers are as likely to access from their pockets as from a bookshelf. It offers updated guidelines on electronic workflows and publication formats, tools for PDF annotation and citation management, web accessibility standards, and effective use of metadata, abstracts, and keywords. It recognizes the needs of those who are self-publishing or following open access or Creative Commons publishing models. The citation chapters reflect the ever-expanding universe of electronic sources—including social media posts and comments, private messages, and app content—and also offer updated guidelines on such issues as DOIs, time stamps, and e-book locators.
Other improvements are independent of technological change. The chapter on grammar and usage includes an expanded glossary of problematic words and phrases and a new section on syntax as well as updated guidance on gender-neutral pronouns and bias-free language. Key sections on punctuation and basic citation style have been reorganized and clarified. To facilitate navigation, headings and paragraph titles have been revised and clarified throughout. And the bibliography has been updated and expanded to include the latest and best resources available.
This edition continues to reflect expert insights gathered from Chicago's own staff and from an advisory board of publishing experts from across the profession. It also includes suggestions inspired by emails, calls, and even tweets from readers. No matter how much the means of communication change, The Chicago Manual of Style remains the ultimate resource for those who care about getting the details right.
Praise for The Chicago Manual of Style, 17th Edition
"(A) guiding light for almost all published writing in America today."
— Boston Globe
"'Chicago' is the rule of reason made flesh. It is belief in sensible authority and reasonable application thereof. . . . Everything is changing, but some truths remain steadfast, and they should be not merely online but at your fingertips."
— Washington Post
"This manual stands as an indispensable and thoughtfully constructed English language and style resource for those compelled, by enthusiasm or responsibility, to attend to the minutiae of written expression."
— Publishers Weekly
"As it incorporates contemporary examples (e.g., NOOK, Lady Gaga), CMS, as expected, offers sensible, clear advice on matters great and small for authors' guidance—such as the treatment of names of ships and spaceships, use of the en dash, how to edit electronic manuscripts, and the ins and outs of documenting and citing works of many kinds. Just as the seventeenth edition reflects publishing changes since the 2010 sixteenth edition, the online counterpart, an inherently continuously evolving work, will be the version of choice for those whose libraries license it."
— A Top Ten Reference Book
"The Chicago Manual of Style is the essential tool—significantly larger and much more broadly based compared to particular discipline-centric styles—that has (since 1906) guided editors, publishers, copy editors, and proofreaders, and continues to support the scholarship and writing of serious researchers in all fields of study."
— Essential rating
"The revolution continues. With the manual's 17th edition . . . both the online and hard copy editions address all kinds of issues not pertinent a decade or even seven years ago. . . . However the University of Chicago Press has not forgotten its roots. The 1013-page book (not including a 129-page index) still has all the traditional information that writers, editors and publishers expect from what is often called the 'Bible' of the publishing world."
— Publishing Research Quarterly
"A magnificent piece of work."
— Indexer
"For those looking to learn or reference the Chicago formatting and citation styles, The Chicago Manual of Style will always be the go-to resource. Despite each new edition's growth in length and changes in content, the volume remains the same: the definitive—and only—guide to Chicago style. Given the print volume's size and weight, the online version, with its additional features—many of which are freely available—is a good alternative for both brief and dedicated users who want portable access to the manual or want to move beyond the content to engage with The Chicago Manual of Style community."
— Journal of Electronic Publishing
"With publication of its seventeenth edition, the venerable Chicago Manual of Style adapts to changes in technology and editorial preferences while retaining its long-established principles."
— Technical Communication