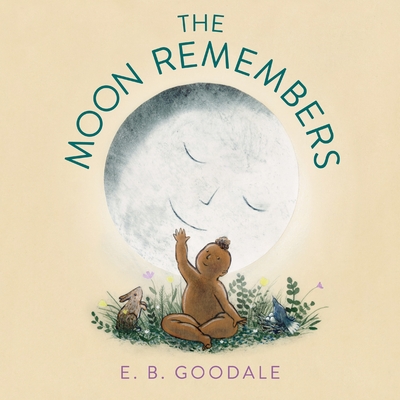 The Moon Remembers
Publication Date:
May 9th, 2023
The Winchester Book Gallery
2 on hand, as of Nov 30 8:37pm
(JUV* (BISAC Category))
On Our Shelves Now
Description
★ "Peaceful and reverent, this is a book for all families to share as they cuddle closely together." —Kirkus Reviews (starred review)
★ "[A] satisfying nighttime story with a tender heart. Reassuring in its simplicity and lulling in its tone, with visual ties to the expanse of the natural world." —ALA Booklist (starred review)
★ "E. B. Goodale's exceptional The Moon Remembers deserves a place among perennial favorites like Margaret Wise Brown and Clement Hurd's Goodnight Moon and Eric Carle's Papa, Please Get the Moon for Me." —BookPage (starred review)
Epic and intimate, The Moon Remembers is a classic in the making for fans of You Matter and You Belong Here—a perfect birthday or baby shower gift to read with loved ones.
This is a lyrical look at how the moon is a guardian for everyone—after all, each squirrel and owl, all the trees and tiny flowers, even your mama and daddy, were babies once. And the moon remembers.
Just right for new babies (and new parents of those babies), graduates, or anyone looking for comfort during life's many milestones, this ode to the constancy of the moon is a perfect pick for readers of all ages.
Perfect for:
Baby shower gift for parents.
Fans of Goodnight Moon, Guess How Much I Love You, The Wonderful Things You Will Be, and Someday.
Don't miss other titles by E. B. Goodale:
Praise for The Moon Remembers
Praise for The Moon Remembers: ★ "Peaceful and reverent, this is a book for all families to share as they cuddle closely together." — Kirkus Reviews (starred review)
Praise for The Moon Remembers: ★ "[A] satisfying nighttime story with a tender heart. Reassuring in its simplicity and lulling in its tone, with visual ties to the expanse of the natural world." — Publishers Weekly (starred review)
Praise for The Moon Remembers: ★ "E.B. Goodale's exceptional The Moon Remembers deserves a place among perennial favorites like Margaret Wise Brown and Clement Hurd's Goodnight Moon and Eric Carle's Papa, Please Get the Moon for Me." — BookPage (starred review)
Praise for The Moon Remembers: "Goodale blends realism and a touch of fancy to pitch some big ideas to the toddler and preschool crowd. Will be welcome at bedtime and baby-showers." — Horn Book Magazine
Praise for The Moon Remembers: "A book that is both beautifully written and illustrated."
— School Library Journal
Praise for Under the Lilacs: "Ezra Jack Keats Award winner Goodale succeeds in offering a contemplative and relatable work that affirms and reflects the complex emotional lives of young children." — School Library Journal
Praise for Also: ★ "A multigenerational masterpiece, and outstanding addition to any collection." — School Library Journal (starred review)
Praise for Windows: ★ "Debut illustrator Goodale's delicately detailed ink, watercolor, letterpress, and digital collage illustrations display palettes of the evening and night skies with beautifully nuanced shades of yellow, gold, and blue. The red-hooded child of color with dog can't help but recall Peter and Willie, and this book is a lovely, affirming follow-up. A warmhearted tale of a child, a dog, and their peaceful, friendly, and inviting neighborhood." — Kirkus Reviews (starred review)