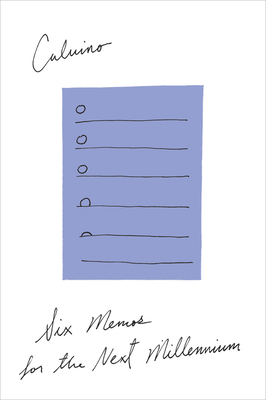 Six Memos For The Next Millennium
Publication Date:
August 2nd, 2016
Publisher:
Mariner Books Classics
Usually Ships in 1 to 5 Days
Description
Italo Calvino's brilliant reflection on what makes great literature, from the classics to more contemporary works, punctuated with personal details about Calvino's own writing processes.
At the time of his death, Italo Calvino was at work on six lectures setting forth the qualities in writing he most valued, and which he believed would define literature in the century to come. Here, in Six Memos for the Next Millennium, are the five lectures he completed, forming not only a stirring defense of literature, but also an indispensable guide to the writings of Calvino himself.
Calvino devotes one "memo" each to the concepts of lightness, quickness, exactitude, visibility, and multiplicity, drawing examples from his vast knowledge of myth, folklore, and works both ancient and modern. Readers will be astonished by the prescience of these lectures, which have only gained in relevance as Calvino's "next millennium" has dawned.
About the Author
ITALO CALVINO (1923–1985) attained worldwide renown as one of the twentieth century's greatest storytellers. Born in Cuba, he was raised in San Remo, Italy, and later lived in Turin, Paris, Rome, and elsewhere. Among his many works are Invisible Cities, If on a winter's night a traveler, The Baron in the Trees, and other novels, as well as numerous collections of fiction, folktales, criticism, and essays. His works have been translated into dozens of languages.
Praise for Six Memos For The Next Millennium
"Enchanting... Calvino woos you... If you take the time to absorb this book, you will never read or write the same way again... he will provide you with a rich new way of looking and thinking." —PASTE MAGAZINE    —