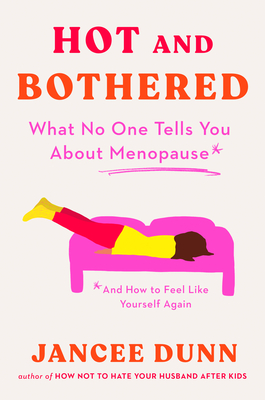 Hot and Bothered: What No One Tells You About Menopause and How to Feel Like Yourself Again
Publication Date:
May 2nd, 2023
Publisher:
G.P. Putnam's Sons
The Winchester Book Gallery
1 on hand, as of Dec 10 9:52pm
(HEA* (BISAC Category))
On Our Shelves Now
Description
"Hot and Bothered removes the shame, disdain, and mystery that's surrounded menopause….An informative, entertaining and desperately needed book." —Jen Sincero, author of You Are a Badass
When Jancee Dunn hit her mid-forties, she was bombarded by seemingly random symptoms: rampant insomnia, spring-loaded nerves, weirdly dry mouth, and Rio Grande-level periods. After going to multiple doctors who ran test after fruitless test, she was surprised to finally discover the culprit—perimenopause. For more than two decades, Jancee had been reporting on mental and physical health. So if she was unprepared for this, what about all the women who don't write about health for a living?
Hot and Bothered is the book she wishes existed as she was scrambling for information: an empowering, research-based guide on how women can tackle this new stage of life. Menopause isn't a disease, but a natural, normal life transition. Why, then, are we still speaking in whispers about something that affects half the earth's population?
Through in-depth interviews with renowned menopause experts and trusted authorities, Dunn peels back the layers on this still-mystifying topic with her trademark humor and unpacks the science on both hormonal and nonhormonal treatments. She provides actionable ways to improve sleep, sex, moods, mental clarity, and skin; details the latest treatments for hot flashes; and explores the best practices to stop "peezing" (that would be peeing when you sneeze, thanks to your new urinary issues). Dunn's clear, easy-to-follow advice will help you reclaim yourself—and fully embrace life's next chapter.
Praise for Hot and Bothered: What No One Tells You About Menopause and How to Feel Like Yourself Again
One of SheKnow's 11 Books Your Need to Read If You're Going Through Perimenopause or Menopause
One of Re-Spin's 5 Books to Guide You Through Menopause
"Menopause can be miserable… Jancee Dunn aims to make it better. Dunn's well-researched, womanist point of view is powerful… A woman of any age would do well to take Dunn's closing advice. 'Learn everything you can about menopause, share your experience with others, seek treatment if you need it, and refrain from freaking out.'" —The Washington Post

  "Menopause affects half the world's population — yet we speak about it in whispers, or not at all. Author Jancee Dunn looks to bring transparency to an important issue, to help women tackle this next stage of life." —The New York Post  
"A guide that anyone who gets periods should read, a detailed and demystifying exploration of what happens as the childbearing years wind down and what experts say can make the transition time easier. It's also a frank and personal account of her own journey through menopause and a beacon of encouragement of what's on the other side." —Salon
"Hot and Bothered removes the shame, disdain and mystery that's surrounded menopause ever since the first vaginas roamed the earth. As a longtime fan of Jancee Dunn's writing and a fairly new fan of menopause (buh-bye cramps and bloating, hello white pants!) I'm so thrilled that Jancee lends her journalistic savvy and hilarious voice to such an informative, entertaining and desperately needed book." —Jen Sincero, author of You Are a Badass

"The iconic oracle Jancee Dunn does it again. A trademark blend of humor, science and storytelling, Hot and Bothered is a must read for all women and those who love them." —Eve Rodsky, author of Fair Play

"Riveting…Dunn presents her research in a way that's easy to digest….Something everyone with a working funny bone will appreciate is Dunn's signature sarcasm and "I've-been-there" attitude that help the advice she doles out go down just a bit easier…Above all, it's Dunn's goal of teaching women how to educate themselves and embrace life's next chapter instead of 'suffering in silence' that makes this book worth reading and discussing." —San Francisco Chronicle
"[Dunn] offers clear information and humor to address a transition that happens to 50 percent of the world's population." —WNYC
"Dunn shares practical ways to ease the symptoms and reclaim your body." —Maria Shriver Sunday Paper
"[A] funny, factual ride that bounces from interviews with innovative menopause experts, to the history of hormone therapy, to Dunn's own experience getting a hot flash while interviewing a movie star." —Naomi Watt's Adulted

"Shed[s] light on menopause and break[s] down the common misconceptions…Dunn takes a practical approach to a naturally occurring experience for women that is often treated like a secret and dives into a broad range of topics surrounding menopause." —Re-Spin
"Smart, funny, and relatable as hell. Hot and Bothered is Dunn's honest and well-researched guide to navigating the change of life, covering everything from ways to improve sleep and sex to the newest hot flash treatments." —SheKnows
"Dunn, a longtime health journalist, shares the skinny on the hot flashes, sweatiness, and moodiness that many women experience in the years surrounding their last menstrual period…Dunn gives good health information about hormones and insomnia, but it's her candor and humor that make this guide stand out." —Booklist
"[A] useful addition for consumer health collections that need an accessible, current book about perimenopause and menopause." —Library Journal
"Informative [and] astute…Dunn's new book covers every aspect of peri- and menopause, from how sex can change, to how to talk to your partner about what you're going through and how to find doctors who can actually help you. She is charmingly forthright, her wry humor and well-researched advice the perfect antidote to some of the more alarming material (wait, dry what?)…Dunn is unafraid to share her own experiences, embarrassments, and a few hilarious horror stories (one involving a surprise period on a boat with a bunch of strangers, and one involving pee on a front porch) with a generosity that is immensely reassuring." —Romper
"Jancee Dunn has provided a vital guide for all women fumbling in the dark who might be wondering what on earth is happening to their bodies, their minds, their relationships, and in some cases even their careers. This is a book that dares to address the terrible taboo that shrouds menopause in perpetual shame and secrecy." —Shirley Manson, lead singer of Garbage

"Every person's menopause experience is different, but Jancee Dunn's book highlights with candor, thoughtfulness, and wit, a shared desire of people in that phase of life—and any phase of life, really: to be seen, heard, and loved." —Abby Norman, author of Ask Me About My Uterus

"Full of actionable information and humor, and completely devoid of the medical gaslighting so many people experience as they enter perimenopause." —Chelsea Conaboy, author of Mother Brain

"Are You There, Jancee? It's Me, Ovaries. This book is a gift to every woman who's ever wondered, 'Am I going mad?' and 'Why isn't anyone talking about this stuff?' and especially, 'Is it hot in here, or is it just me?'" —Faith Salie, author of Approval Junkie

"Janice Dunn has crafted the most up-to-date, scientifically-sound, helpful, relatable, and enjoyable book on menopause I've ever read." —Laurie Mintz, Ph.D., author of A Tired Woman's Guide to Passionate Sex and Becoming Cliterate

"Hot and Bothered should be required reading for every person approaching, enduring, or even contemplating menopause. I learned something on every page of this exceptional book." —Danielle Friedman, author of Let's Get Physical
"Accessible, pragmatic guidance on navigating menopause and an indictment of the cultural silence and medical ignorance surrounding an experience shared by half the population." —Maya Dusenbery, author of Doing Harm