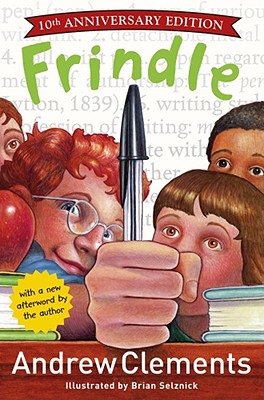 Frindle
Publication Date:
October 1st, 1996
Publisher:
Atheneum Books for Young Readers
Description
Nicholas Allen has plenty of ideas. Who can forget the time he turned his third-grade classroom into a tropical island, or the times he fooled his teacher by chirping like a blackbird? But now Nick's in fifth grade, and it looks like his days as a troublemaker are over. Everyone knows that Mrs. Granger, the language arts teacher, has X-ray vision, and nobody gets away with anything in her classroom. To make matters worse, she's also a fanatic about the dictionary, which is hopelessly boring to Nick. But when Nick learns an interesting tidbit about words and where they come from, it inspires his greatest plan yet: to invent a new word. From now on, a pen is no longer a pen -- it's a frindle. It doesn't take long for frindle to take root, and soon the excitement spreads well beyond his school and town. His parents and Mrs. Granger would like Nick to put an end to all this nonsense. But frindle doesn't belong to Nick anymore. All he can do now is sit back and watch what happens.
This quirky, imaginative tale about creative thought and the power of words will have readers inventing their own words. Brian Selznick's black-and-white illustrations enhance the humor in this unforgettable story.
About the Author
Andrew Clements (1949–2019) was the author of the enormously popular Frindle. More than 10 million copies of his books have been sold, and he was nominated for a multitude of state awards, including a Christopher Award and an Edgar Award. His popular works include About Average, Troublemaker, Extra Credit, Lost and Found, No Talking, Room One, Lunch Money, and more. He was also the author of the Benjamin Pratt & the Keepers of the School series. Find out more at AndrewClements.com.
Brian Selznick is the author and illustrator of the bestselling The Invention of Hugo Cabret, which was awarded the Caldecott Medal and was a National Book Award finalist. He is also the illustrator of many books for children, including Frindle and Lunch Money by Andrew Clements, as well as the Doll People trilogy by Ann M. Martin and Laura Godwin, and The Dinosaurs of Waterhouse Hawkins by Barbara Kerley, which was a Caldecott Honor Book. Mr. Selznick divides his time between Brooklyn, New York, and San Diego, California.