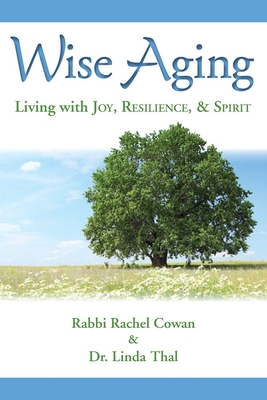 Wise Aging: Living with Joy, Resilience, & Spirit
Publication Date:
March 27th, 2015
Publisher:
Behrman House Publishing
Description
2016 National Jewish Book Award Finalist-Contemporary Jewish Life and Practice
How can we make aging a good and powerful experience?
Aging can feel like an inevitable drift. But each year new doors open with opportunities, while others close with loss. We have the power to prepare--to build our resilience and navigate the challenges. Will we turn towards the opportunities, and continue to find joy and meaning in our lives? Strengthen relationships with our adult children? Have the courage to find new ways of living? How can we make the most of the aging process, and develop into deeper, wiser people?
In Wise Aging, Rabbi Rachel Cowan and Dr. Linda Thal give us the tools we need to find our own answers to these questions. With the same warmth, humor, and wisdom that draws thousands to their innovative workshops on aging, they deliver practical, real world suggestions: journaling exercises, meditations, and activities that dig deep and lead us to a better understanding of how to age well.
Wise Aging provides the roadmap for the journey we are all on: achieving a fulfilling older age. No subject is off limits; Rabbi Cohen and Dr. Thal explore a wide range of issues, including:
Relationships with adult children and spouses
Body image
Romance and sexuality
Living with loss
Cultivating well-being
They tackle these issues head on, and with uncanny sensitivity deliver sage advice that inspires, informs, and will help us grow into wisdom with resilience and joy.