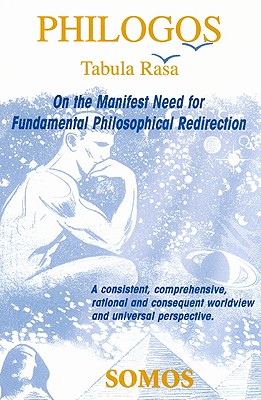 Philogos/Tabula Rasa: On the Manifest Need for Fundamental Philosophical Redirection
Publication Date:
February 1st, 2008
Publisher:
Philogos Foundation
The Winchester Book Gallery
1 on hand, as of Dec 10 9:52pm
(Religion)
On Our Shelves Now
Description
This book searches deep into the questions of life and offers unique conclusions. Can evil be avoided where physical dominance can play both judge and jury? Why has the message of good, of holiness, not done better in the world? Is physical life and existence suspect of failing in the eyes of a beneficent God - of our metaphor for the divine good and for the truth? The book seeks to offer the reader an unbiased, unmortgaged look at the way things really, truly are without any preconceptions, entrenched traditions, beliefs, or hypocrisy. It provides some deep reading for those interested in the bigger questions of life. SOMOS holds that it is absolutely essential for the attainment of a full, rational understanding and plausible ultimate perspective concerning our physical universe that our religions and philosophy be joined in reasoned conceptual agreement. From a scientific point of view, the author finds that the long sought after field unification is possible only in what he calls the perfect, polarity-less state of eternal, infinite energy -- thus it could never be achieved in our imperfect, physical and temporal environment. Such are the provocative ideas considered by the author in his updated philosophizing on a wanting universe of physical being and existence, on its being right or wrong, and on its morality and rationality in light of absolute perfection. As the title Tabula Rasa reminds us, a blackboard covered with yesterday's theorems must be erased to allow room for new concepts.