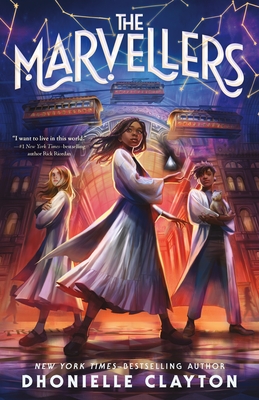 The Marvellers (The Conjureverse #1)
Publication Date:
May 3rd, 2022
Publisher:
Henry Holt and Co. (BYR)
Usually Ships in 1 to 5 Days
Description
Dhonielle Clayton makes her middle-grade debut with a fantasy adventure set in a global magic school in the sky —an instant New York Times and #1 Indie Bestseller!
"The Marvellers deserves the highest compliment I can give a book: I want to live in this world." —Rick Riordan, #1 New York Times bestselling–author

Eleven-year-old Ella Durand is the first Conjuror to attend the Arcanum Training Institute, a magic school in the clouds where Marvellers from around the world practice their cultural arts, like brewing Indian spice elixirs and bartering with pesky Irish pixies.
Despite her excitement, Ella discovers that being the first isn't easy—some Marvellers mistrust her magic, which they deem "bad and unnatural." But eventually, she finds friends in elixirs teacher, Masterji Thakur, and fellow misfits Brigit, a girl who hates magic, and Jason, a boy with a fondness for magical creatures.
When a dangerous criminal known as the Ace of Anarchy escapes prison, supposedly with a Conjuror's aid, tensions grow in the Marvellian world and Ella becomes the target of suspicion. Worse, Masterji Thakur mysteriously disappears while away on a research trip. With the help of her friends and her own growing powers, Ella must find a way to clear her family's name and track down her mentor before it's too late.
"A marvelous gift of a novel! With fantastical twists at every turn, Clayton has created a world that readers won't want to leave." —Angie Thomas, #1 New York Times-bestselling author of The Hate U Give and Concrete Rose

Praise for The Marvellers (The Conjureverse #1)
A New York Times Bestseller
A Kirkus Best Book of the Year
A School Library Journal Best Book of the Year
A Texas Bluebonnet Award Winner
A Charlotte Huck Honor Book
An Indiana Young Hoosier Award Nominee
An Amazon Best Book of the Year
An Evanston Public Library's Great Book for Kids
"The Marvellers deserves the highest compliment I can give a book: I want to live in this world. You can stop looking at admissions brochures for all those other schools of magic. The Arcanum Training Institute for Marvelous and Uncanny Endeavors is definitely where you want to apply." —#1 New York Times bestselling–author Rick Riordan
"An enthralling fantasy adventure full of bravery, love, and humor." —Kirkus Reviews, starred review

"[A] myriad [of] global cultural traditions with an intersectionally inclusive, fantastical adventure." —Publisher's Weekly, starred review

"An exemplary example of diversity with a Black girl protagonist, and characters representing a variety of cultures, skin tones, gender identities, sexual orientations, and religious affiliations. This fun, immersive tale is a must-purchase." —School Library Journal, starred review
"This middle-grade debut will have readers buzzing as much for its best-selling author as for the desperately needed fresh take on magic schools." —Booklist
"The Marvellers is only the start of Ella's journey, but Clayton has carefully given Ella everything she needs to one day join the likes of Percy Jackson, Morrigan Crow and Aru Shah in the middle grade fantasy hall of fame." —BookPage
"[An] inclusive fantasy worlds filled with magic, lore, and beauty. A marvelous middle-grade adventure, indeed." —Horn Book
"Immersive, inclusive, and downright fantastical, this magical boarding school tale is going to shake up the fantasy landscape. Get ready!" —Nerdist
"A gorgeous world filled with enchanting characters, The Marvellers will dazzle readers from beginning to end!" —Kwame Mbalia, New York Times-bestselling author of Tristan Strong series
"A marvelous gift of a novel! With fantastical twists at every turn, Clayton has created a world that readers won't want to leave. The Marvellers is magical!" —Angie Thomas, #1 New York Times-bestselling author of The Hate U Give and Concrete Rose
"The Marvellers is a rich, enchanted melting pot of magic, thrills, and color . . . filled with heart, wit, and humor. Reinventing the magic school trope is a tall order, but author Dhonielle Clayton is well up to the task . . . A tantalizing introduction to an exhilarating fantasy universe." —Soman Chainani, New York Times-bestselling author of The School for Good and Evil series
"Never in all my years of reading have I encountered a book that so seamlessly weaves together mind-bending marvels, cultural relevance and powerful historical themes . . . all in richly imagined world I would give anything to live in. The Marvellers fully reignited my belief in magic." —Nic Stone, #1 New York Times-bestselling author of Dear Martin
"A 'Marvellerous' middle-grade debut! Delightful, charming, exceptionally clever, and filled with suspense and humor. Fantasy fans will be entranced by Ella's magical journey." —Lisa McMann, New York Times–bestselling author of the Forgotten Five Series
"A fresh, intricately imagined world paired with a clever, endearing cast of characters. I can't wait for every reader to find themselves in this story and dream of becoming a Marveller." —Shannon Messenger, New York Times-bestselling author of Keeper of the Lost Cities
"An exquisite and star-filled world of wonder. Dhonielle Clayton's beautiful prose showcases how honoring differences and sharing gifts can build the strongest friendships. Most of all, The Marvellers illuminates stellar storytelling through the lens of a Black girl learning to embrace the full potential of her magic." —Karen Strong, author of Just South of Home and Eden's Everdark
"This is the fantasy adventure the world needs. The Marvellers is a cultural reset, the kind of thorny, exciting, and magical story that I've needed my whole life. Clayton's detailed and heartfelt world—all seen through the eyes of the brilliant Ella Durand—is going to capture the imagination of readers in an instant. Where's book two? I already need it!" —Mark Oshiro, author of The Insiders