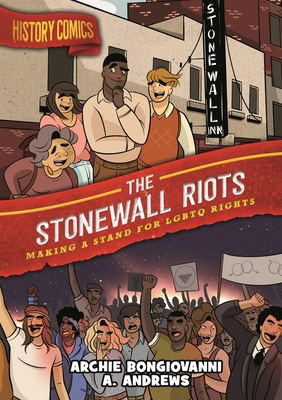 History Comics: The Stonewall Riots: Making a Stand for LGBTQ Rights
Publication Date:
May 24th, 2022
Usually Ships in 1 to 5 Days
Description
Turn back the clock with History Comics! In this graphic novel, experience the Stonewall Riots firsthand and meet iconic activists like Marsha P. Johnson and Sylvia Rivera.

Three teenagers—Natalia, Jax, and Rashad—are magically transported from their modern lives to the legendary Stonewall Inn in the summer of 1969. Escorted by Natalia's eccentric abuela (and her pet cockatiel, Rocky), the friends experience the police raid firsthand and are thrown into the infamous riots that made the struggle for LGBTQ rights front-page news.
Praise for History Comics: The Stonewall Riots: Making a Stand for LGBTQ Rights
"Engaging account that invites young people to continue to advocate for equality now."—Kirkus
"Accessible and intersectional, this compact foray into queer history is an ­essential purchase for all graphic ­nonfiction collections."—School Library Journal, starred review