Chasing History: A Kid in the Newsroom (CD-Audio)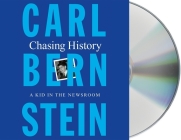 Description
---
In this triumphant memoir, Carl Bernstein, the Pulitzer Prize-winning coauthor of All the President's Men and pioneer of investigative journalism, recalls his beginnings as an audacious teenage newspaper reporter in the nation's capital—a winning tale of scrapes, gumshoeing, and American bedlam.

In 1960, Bernstein was just a sixteen-year-old at considerable risk of failing to graduate high school. Inquisitive, self-taught—and, yes, truant—Bernstein landed a job as a copyboy at the Evening Star, the afternoon paper in Washington. By nineteen, he was a reporter there.

In Chasing History: A Kid in the Newsroom, Bernstein recalls the origins of his storied journalistic career as he chronicles the Kennedy era, the swelling civil rights movement, and a slew of grisly crimes. He spins a buoyant, frenetic account of educating himself in what Bob Woodward describes as "the genius of perpetual engagement."

Funny and exhilarating, poignant and frank, Chasing History is an extraordinary memoir of life on the cusp of adulthood for a determined young man with a dogged commitment to the truth.
About the Author
---
Carl Bernstein is the author or coauthor of a number of bestselling books, most notably All the President's Men, written with Bob Woodward. He, Woodward, and the Washington Post were awarded the Pulitzer Prize for Public Service for breaking and investigating the Watergate story, which led to the resignation of President Richard Nixon and set the standard for modern investigative reporting. He is also the author of biographies of Pope John Paul II and Hillary Clinton and a memoir of his family's experiences during the McCarthy era. He is currently an on-air political analyst for CNN and a contributing editor for Vanity Fair. He lives in New York City.

Robert Petkoff has won multiple AudioFile Earphones awards for his acclaimed narrations. He was named Best Voice of Fiction & Classics for his reading of The Evolution of Bruno Littlemore by Benjamin Hale. His other narration credits include Oath of Office by Michael Palmer, Gangster Squad by Paul Lieberman, and books by David Foster Wallace.Petkoff has appeared on Broadway, Off-Broadway, and in theaters across America and Europe.  He has worked in television and film. His theater credits include Lord Evelyn Oakleigh in the Broadway production of Anything Goes, Perchik as part of the Tony-nomianted cast of Fiddler on the Roof, and Hubert Humphrey in the Tony award-winning play All the Way. He has also had numerous roles in television on shows such as Law and Order and Married with Children.