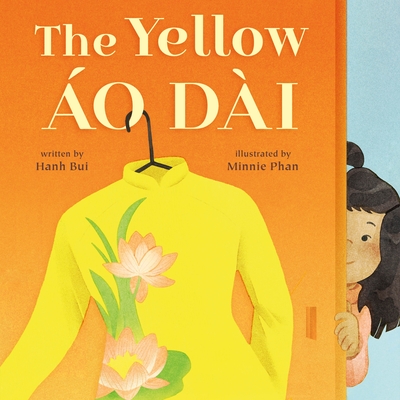 The Yellow Áo Dài
Publication Date:
April 25th, 2023
Publisher:
Feiwel & Friends
Usually Ships in 1 to 5 Days
Description
Lovingly illustrated by Minnie Phan, Hanh Bui's debut picture book, The Yellow Áo Dài, is a warm story of family, identity, and remembering those who came before.

Naliah is excited to perform a traditional Vietnamese Fan Dance at her school's International Day. When she finds that her special áo dài no longer fits right, she goes to her mom's closet to find another.
She puts on a pretty yellow one—only to accidentally rip it while practicing her dance. She's horrified to discover that this was a very special áo dài that her grandmother had worn to dance at the Mid-Autumn Festival in Vietnam.
But with a little help from her mom's sewing kit and her grandmother's loving legacy, Naliah learns not only how to mend the yellow áo dài but also how to believe in herself and make it her own.
Praise for The Yellow Áo Dài
Praise for The Yellow Áo Dài:
"This simple, lyrical, touching story took me to a place that I did not know but to emotions that belong to us all. I will not forget it and its lesson of confession, forgiveness, and love." —Jane Yolen, award-winning author of Owl Moon and over 400 other books for children
"A truly heartwarming story of mother and daughter, generations and traditions, and ultimately forgiveness and unconditional love that will make you want to share this wonderful book with someone you love. " —Mary Rand Hess, New York Times bestselling author
"Heartwarming ... Lovely illustrations, using subtle colors and graceful lines to define the characters and express Naliah's shifting emotions, concluding with joy and contentment. A picture book celebrating immigrants and their families' cultures." —Booklist
"Vietnamese ­culture is beautifully honored through Phan's expressive, cheerful ­watercolors. ­... Naliah's story teaches readers about the importance of family and culture in forming identity. ... Would pair especially well with Eva Chen's I Am Golden, Joanna Ho's Eyes that Kiss in the Corners and ­Nabela Noor's Beautifully Me." —School Library Journal
"Bui weaves a tender tale of a family honoring memories and heirlooms but also creating new traditions. Phan's buoyant and beautiful illustrations convey the protagonist's emotions. ... A charming contemporary celebration of family and heritage." —Kirkus Reviews

"An accident turns into a glimpse at family history in this reassuring picture book ... Phan's digital illustrations twine the protagonists' arc with images of flora and fauna that befit the story's inventive conclusion, and Naliah's emotions are playfully mirrored by a small rabbit sidekick, gentling moments of tension." —Publishers Weekly