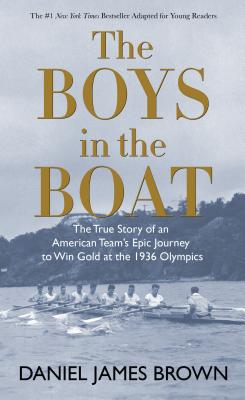 The Boys in the Boat: The True Story of an American Team's Epic Journey to Win Gold at the 1936 Olympics
Publication Date:
March 8th, 2017
Publisher:
Thorndike Press Large Print
n the early 1930's, nine young University of Washington students are part of the rowing crew striving to achieve the final pick to become the team to represent the USA at the 1936 Olympic Games in Berlin as Hitler brazenly builds his Third Reich. Fiercely determined by the hard times of the Great Depression, this is an emotional story of the crew and those who put their trust in them as they put their hearts into 'sculpting
Carol Hicks, Bookshelf At Hooligan Rocks, Truckee, CA
July 2013 Indie Next List
Description
The #1 "New York Times"bestsellerabout the Greatest Generationfreshly adapted for the next generation.
For readers of"Unbroken," out of the depths of the Great Depression comes the astonishing tale of nine working-class boys from the American West who at the 1936 Olympics showed the world what true grit really meant. With rowers who were the sons of loggers, shipyard workers, and farmers, the University of Washington's eight-oar crew was never expected to defeat the elite East Coast teams, yet they did, going on to shock the world by challenging the German boat rowing for Adolf Hitler.
At the center of the tale is Joe Rantz, a teenager without family or prospects, whose personal quest captures the spirit of his generation the generation that would prove in the coming years that the Nazis could not prevail over American determination and optimism.
This deeply emotional yet easily accessible young readers adaptation of the award-winning #1 "New York Times" bestseller features never-before-seen photographs, highly visual back matter, and an exclusive new introduction.
About the Author
Daniel James Brown is the author of two previous nonfiction books, "The Indifferent Stars Above" and "Under a Flaming Sky, "which was a finalist for a Barnes & Noble Discover Award."" He has taught writing at San Jose State University and Stanford University. Helives outsideSeattle."