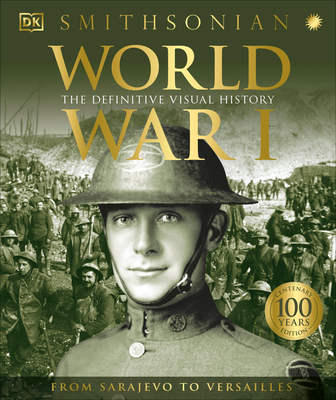 World War I: The Definitive Visual History (DK Definitive Visual Histories)
Publication Date:
April 3rd, 2018
Usually Ships in 1 to 5 Days
Description
Between 1914 and 1918, a conflict on an epic scale left an indelible mark on the memory of the world – World War I.
World War I: The Definitive Visual History takes you from the assassination of Archduke Franz Ferdinand to the Treaty of Versailles. Experience some of the most prominent battles, such as the Somme and Verdun, through compelling direct accounts from soldiers who fought as well as civilians who lived through the First World War. Get a close-up view of the impressive weaponry and equipment used throughout the war in photographic galleries and learn more about the key people, including David Lloyd George and Joseph Joffre.
Each chapter begins with a map and visual timeline to set the scene for the events to follow, highlighting when, where, and why things happened and changed history as they did. A final section of the book features commemorations that took place 100 years after the war and memorials around the world built to honor those who died in the conflict.
This is an engaging and visually stunning guide for anyone interested in learning more about the First World War, offering a true understanding of a war that changed the course of history.
Praise for World War I: The Definitive Visual History (DK Definitive Visual Histories)
The folks at DK have almost single-handedly rejuvenated if not reinvented the often moribund world of non-fiction books for children. [Eyewitness series] (Newsweek) ...a mini museum between the covers of a book. [Eyewitness series] (The New York Times) These books' striking visual impact will draw in even the most casual readers. [Eyewitness series] (School Library Journal)