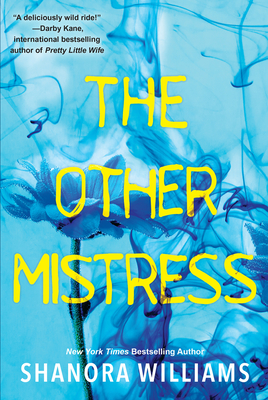 The Other Mistress: A Riveting Psychological Thriller with a Shocking Twist
Publication Date:
June 27th, 2023
Usually Ships in 1 to 5 Days
Description
"Shanora Williams expertly drops hints and clues as she spins and twists this psychological thriller, leaving the reader gasping for breath and racing to get to the explosive end." —Darby Kane, international bestselling author of Pretty Little Wife
Perfect for fans of Jeneva Rose and Charlie Donlea, the chilling new book from the New York Times bestselling author of The Wife Before is an insidiously sexy and twisty novel of seduction, betrayal, and obsession about the increasingly dangerous alliance between a betrayed wife and the Other Mistress.
Adira Smith-Cortez knows how to turn around a troubled past. Now she's a self-made multi-millionaire who takes exquisite care of herself and her only true love: her husband, Gabriel. Adira has it all—except the answer to one tormenting question: why is attentive, affectionate Gabriel cheating on her—with not just one, but two women. There's sexy Jocelyn, a club owner. And then there's Julianna, a celebrity makeup artist he's even crazier about. In a tricky twist, vengeful Jocelyn offers Adira the perfect plan to get her straying spouse back . . .
It sounds simple: Adira will befriend Julianna through a fake identity, play on her and Gabriel's vulnerabilities and cause them to split up permanently. Determined to reclaim her happiness, Adira won't—can't—stop to think what could possibly go wrong . . .
Until too many of Gabriel's lies start adding up to a disquieting truth. Until Julianna discovers who Adira really is—and Jocelyn pushes Adira to ever-more-unthinkable extremes. With her world collapsing and shattering memories tearing her apart, how far will Adira's obsession take her—and how much of herself is she willing to lose in the process . . . 
"A fast-paced, psychological trip with a climax that will shock the most voracious readers. Recommended for fans of Alyssa Cole, Liv Constantine, and Megan Goldin." —Library Journal
"Fans of The Wife Between Us, by Greer Hendricks and Sarah Pekkanen, won't be able to put this one down." —Booklist
"An intriguing story that leaves you guessing just how far these women will go to get what they want. There's plenty of drama and spice to go around with this one!" —Shelly Ellis, author of The Three Mrs. Greys
Praise for The Other Mistress: A Riveting Psychological Thriller with a Shocking Twist
Praise for THE OTHER MISTRESS
"Williams returns with another original and surprising thriller… Fans of The Wife Between Us, by Greer Hendricks and Sarah Pekkanen, won't be able to put this one down." —Booklist
"The Other Mistress is a deliciously wild ride! Shanora Williams expertly drops hints and clues as she spins and twists this psychological thriller, leaving the reader gasping for breath and racing to get to the explosive end." —Darby Kane, international bestselling author of Pretty Little Wife
"An intriguing story that leaves you guessing just how far these women will go to get what they want. There's plenty of drama and spice to go around with this one!" —Shelly Ellis, author of The Three Mrs. Greys
"A fast-paced, psychological trip with a climax that will shock the most voracious readers…Williams has a winner on her hands. Recommended for fans of Alyssa Cole, Liv Constantine, and Megan Goldin." —Library Journal
Praise for Shanora Williams
"A shocking, sensual thriller." —Tarryn Fisher, New York Times bestselling author on The Perfect Ruin

"A thrilling tale full of suspense, lust, and betrayal. Williams has crafted such haunted characters with such twisted dynamics, you'll not only trust none of them, but you won't even be able to trust yourself by the last page!" —T. L. Finlay, author of Girls Without Tears on The Other Mistress

"This twisty thriller takes readers into a high-class, sinfully privileged world populated with characters who will stop at nothing for what they want. Williams stretches out the tension as readers wonder what Lola did to hurt Ivy and whether their shared past will be revealed. With diabolical turns and surprises at every corner, it's an ideal summer read." —Booklist (STARRED REVIEW) for The Perfect Ruin

"Truly riveting." —Urban Reviews on The Wife Before
 
"Williams does give both Melanie and Samira multiple dimensions; they're flawed but also strong and determined, and the twist at the end is a surprise." —Kirkus Reviews on The Wife Before
 
"Williams is an award-winning author of romance and suspense novels; her tale of revenge will find an easy spot in fiction collections. Tailored for book clubs and for those who like to read about the sleazy side of rich elites." —Library Journal on The Perfect Ruin
 
"Shanora Williams serves up an ice-cold revenge thriller set in the glamorous and steamy hot city of Miami." —BookRiot on The Perfect Ruin
 
"This fast-paced and incredibly entertaining book is perfect for devouring by the poolside. Everyone in this book is terrible, but I mean that in the best way possible. Williams is so incredible at writing her characters that despite the horrible things they do, you still want to root for them." —Off the Shelf on The Perfect Ruin