Discounted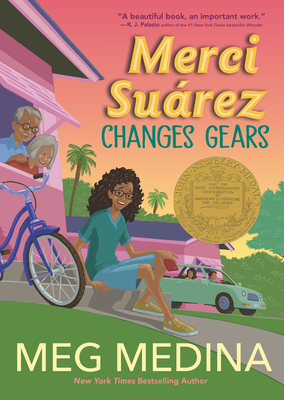 Merci Suárez Changes Gears
Previous price:

$8.99
Current price:

$7.99
Publication Date:
April 7th, 2020
The Winchester Book Gallery
1 on hand, as of Dec 10 9:52pm
(Children's Middle Re)
On Our Shelves Now
Description
Winner of the Newbery Medal
A New York Times Bestseller
"The realistic portrayal of a complex young Latina's life is one many readers will relate to. . . . Medina cruises into readers' hearts." — School Library Journal (starred review)
Merci Suárez knew that sixth grade would be different, but she had no idea just how different. For starters, as strong and thoughtful as Merci is, she has never been completely like the other kids at her private school in Florida, because she and her older brother, Roli, are scholarship students. They don't have a big house or a fancy boat, and they have to do extra community service to make up for their free tuition. So when bossy Edna Santos sets her sights on the new boy who happens to be Merci's school-assigned Sunshine Buddy, Merci becomes the target of Edna's jealousy. Things aren't going well at home, either: Merci's grandfather and most trusted ally, Lolo, has been acting strangely lately — forgetting important things, falling from his bike, and getting angry over nothing. And Merci is left to her own worries, because no one in her family will tell her what's going on. Winner of the 2019 Newbery Medal, this coming-of-age tale by New York Times best-selling author Meg Medina gets to the heart of the confusion and constant change that defines middle school — and the steadfast connection that defines family.
Praise for Merci Suárez Changes Gears
Caught between the world of family and peers, the comfort of Las Casitas and the enticing new call of independence, Merci Suárez is a delightful heroine who, despite real challenges, never wavers in her strong sense of self or her fierce love for la familia. Readers will appreciate watching her navigate how to hold on to what matters when it feels like everything is changing.
—The New York Times Book Review
A beautiful book, an important work. —R. J. Palacio, New York Times best-selling author of Wonder
Merci Suárez Changes Gears is a tenderhearted, funny, realistic, and ultimately heartbreaking story. —R. J. Palacio, New York Times best-selling author of Wonder
Meg Medina is the author I studied, and still study, to learn how to write for children. Her ear is impeccable; the way she captures not only dialogue but also communicates adolescent feelings without being condescending nor pitching extra soft softballs. Few people get the balance of writing about and for teens right.
—Elizabeth Acevedo, New York Times bestselling author
Medina's breathtaking coming-of-age story features a strong, deeply honest protagonist whose insights will make readers laugh, as well as dynamic secondary characters that reveal glimmers of profound depth. Medina capably gets to the heart of middle school experiences in this engrossing story of a kid growing into herself. A must read.
—Booklist (starred review)
Medina writes about the joys of multigenerational home life (a staple of the Latinx community) with a touching, humorous authenticity. Merci's relationship with Lolo is heartbreakingly beautiful and will particularly strike readers who can relate to the close, chaotic, and complicated bonds of live-in grandparents. Medina delivers another stellar and deeply moving story.
—Kirkus Reviews (starred review)
The realistic portrayal of a complex young Latina's life is one many readers will relate to as she discovers that change can be hard, but it's the ride that matters. Pura Belpré–winning author Medina cruises into readers' hearts with this luminous middle grade novel. A winning addition to any library's shelves.
—School Library Journal (starred review)
Medina (Yaqui Delgado Wants to Kick Your Ass, rev. 3/13; Burn Baby Burn, rev. 3/16) consistently and assuredly portrays Latinx girls and women who grapple with their insecurities while learning about themselves and their worlds, and middle-grade heroine Merci is a fine example. Accurate and natural use of Spanish words and sayings that fit each character's tone builds authenticity. Medina writes with sincerity and humor to convey the experience of growing up in a close-knit family that tends to mingle too much in each other's business while unfailingly and dedicatedly supporting and helping one another.
—The Horn Book (starred review)
In this warmly told story, Medina (Burn Baby Burn) introduces 11-year-old Merci, descendent of Cuban immigrants, who attends a Florida private school on scholarship with her whip-smart older brother...Medina keeps the tone light as Merci's take-charge personality helps her to succeed in this coming-of-age tale about family and the perils of sixth grade.
—Publishers Weekly (starred review)
Merci is a relatable character who has her faults but who tries to navigate middle school and stay true to herself and her family. This novel is well-written and contains characters and situations that are complex and realistic. The family's culture plays a large role in the text. This novel would be a wonderful addition to any library.
—School Library Connection
Fans of school and family dramas will enjoy the usual negotiations and a few fresh twists (Merci ends up friends with Michael but another girl becomes his girlfriend), and they'll ponder the message that life can be not fair and still worth it.
—Bulletin of the Center for Children's Books
In a coming-of-age tale full of humor and wisdom, award-winning author Meg Medina gets to the heart of the confusion and constant change that defines middle school — and the steadfast connection that defines family.
—BookRiot (e-newsletter)
Award-winning author Medina delivers a warm, comic tribute to the agonies and ecstasies of intergenerational families...[Merci] and her big, infuriating, lovable family are real enough that readers will wish they could live next door. Grade: A
—The Plain Dealer
Feisty Cuban-American Merci fends of sixth-grade bullies at school while worrying about her grandpa's failing health at home. A moving coming-of-age tale.
—People Magazine
Medina, who won the Pura Belpre Author Award for young adult novel, "Yaqui Delgado Wants to Kick Your Ass," offers a marvelous portrait of a loving, hard-working, Hispanic family and a vividly realistic picture of the confusion of the middle school years through the unforgettable voice of Merci Suãrez.
—Buffalo News
Here's another beautifully written exploration of a close-knit family dealing with some tough issues and a young girl on the edge of adolescence.
—The Booklist Reader
With humor, honesty and heart, author Medina tackles the tugs and pulls in Merci's life…A terrific character, Merci is respectful and forthright, vulnerable but strong, steadfastly striving to define herself.
—San Francisco Chronicle
A book packed with truth, love, and questions. Meg Medina shows us how small, real-life moments can add up in powerful ways. Merci Suárez has my heart.
—Rebecca Stead, Newbery Award-winning author of When You Reach Me
Read this book so that Merci Suárez will become a light forever shining in your heart. She will remind you of the kind person that you are deep down and of the hero you can be
—Francisco X. Stork
Medina writes with profound respect for her readers, not holding back on showing the circumstances that can make growing up an adventure of ups and downs. . . . Layered with humor, Merci Suárez Changes Gears is a heartwarming story about a smart, talented, and thoughtful girl who refuses to let all that's changing keep her from holding on to what matters most.
—Renée Watson, author of What Momma Left Me
Meg Medina's honest and straightforward account of adolescence in Merci Suárez Changes Gears makes her the Judy Blume for a new generation of readers.
—Robin Yardi, author of The Midnight War of Mateo Martinez
Meg Medina reminds us that families' sharing troubles with their youngest members both makes them feel part of the greater whole and empowers them.
—Maria from Sesame Street and author of Becoming Maria: Love and Chaos in the South Bronx
But merci, merci me, did I love this girl. Hardheaded but softhearted, she's a character who really reads like so many middle-school girls. . . . Merci's got her family issues and her friend issues and her schoolwork and her passions. . . . There are sixth-grade girls like this. Lots of 'em. I'm glad they have Merci.
—Jenesse Evertson, bbgb books, Richmond, VA
I loved this sympathetic, vibrant character who opens her heart as she begins to understand the changes going on around her. She will walk right into your heart, too.
—Carol Moyer, Quail Ridge Books, Raleigh, NC
Be sure to have Kleenex handy, because you're going to fall in love with Merci Suárez and her world and I guarantee there will be tears. I read Merci Suárez in just about one sitting and sobbed my way through the last fifty pages. If it made me feel this seen at age thirty-two, I can only imagine the impact it will have on twelve-year-olds.
—Cecilia Cackley, East City Bookshop, Washington, D.C.
Bravo to Meg Medina! Merci's story has depth, heart, and authenticity. Her changing relationship with her grandfather, who has Alzheimer's disease, is especially poignant.
—Margaret Orto, Politics & Prose Bookstore, Washington, D.C.
I LOVED Merci Suárez Changes Gears! I read it in one sitting and was late for everything because I couldn't walk away from it. . . . Meg Medina has created the kind of heroine that every girl can cheer on, embrace, and see herself in. . . . That Merci still fights for her independence while fiercely loving her familia y cultura is what gives this book such an enduring quality. This is a coming-of-age story that will stay with girls throughout their lives. When we think about the great stories we read as adolescents — like Judy Blume's Are You There God? It's Me, Margaret — I can see Merci Suaréz right next to them. I wish with all my heart that I had a book like this when I was a niña entering the sixth grade, and it will be such a joy to put it in my customers' hands.
—Angela Maria Spring, Duende District Bookstore, Washington, D.C.
Meg Medina has scored again with Merci Suárez Changes Gears! . . . I can't wait to get it in our store next fall!
—Clarissa Hadge, Trident Booksellers & Café, Boston, MA