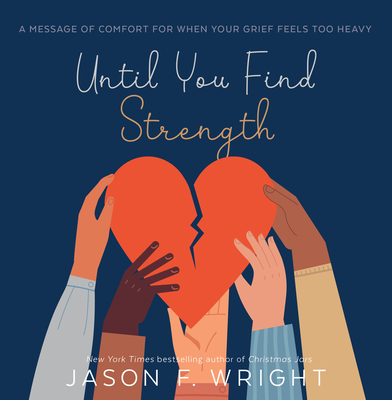 Until You Find Strength: A Message of Comfort for When Your Grief Feels Too Heavy
Publication Date:
August 2nd, 2022
Publisher:
Shadow Mountain
Usually Ships in 1 to 5 Days
Description
Everyone experiences loss differently and grieves in their own way, but author Jason F. Wright, has learned from his own life, and from counseling others, that there are key principles to regaining your footing and finding tranquility after a devastating loss. This beautifully illustrated book is like an extended sympathy card, helping to remind those who are grieving that they are never alone in their pain and heartache.
Long after funeral services, flowers, and cards, this book can be a more permanent and personal reminder that even in a difficult season of quiet, there are people who want to be supportive and are ready to comfort with just their presence and understanding in what the author calls the "new normal" as routines resumes:
"Life lumbers forward. Your new normal has arrived. The one you didn't order. And we're still here for you. We're busy; it's true. But we still think of you. . . . Even if we don't call as often, or send that perfectly timed text, or knock on your door with hot cookies and warm hugs. We know your heart still aches. And we're still here. . . . If the quiet is unbearably loud, send a text. If the tears are knocking again, and it seems impossible to survive another day, please reach out. Any hour. Any time. Any place."
About the Author
Jason F. Wright is a New York Times, Wall Street Journal, and USA Today bestselling author of ten novels. Articles by Jason have appeared in more than fifty newspapers and magazines across the United States including The Washington Times, The Chicago Tribune, and Forbes. He has been seen on FoxNews, CNN, CSPAN, and on many local and national radio shows. He lives with his wife, Kodi, and their four children in the Shenandoah Valley of Virginia.