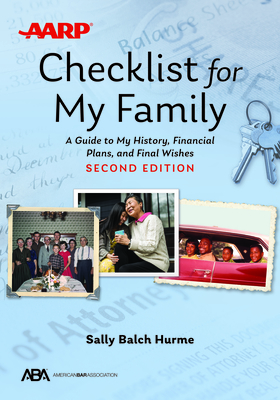 Aba/AARP Checklist for My Family: A Guide to My History, Financial Plans, and Final Wishes, Second Edition
Publication Date:
May 23rd, 2022
Publisher:
American Bar Association
Usually Ships in 1 to 5 Days
Description
Don't put it off any longer Get your life in order and make sure your family knows your plans and wishes with this simple step-by-step guide by a top expert in the field. This valuable resource walks you through the process of gathering in one place critical information about your finances, legal documents, online accounts, passwords, wishes about medical care, and more. Plus, it tells you what you need, what's missing, and where to get it. You're never too young or too old to get organized and prepared, so start now. While giving you peace of mind, this book is also a gift to your loved ones, sparing them stressful decisions should you become ill or die. Stay in control of your affairs with this updated edition of the award-winning book by AARP and the American Bar Association.