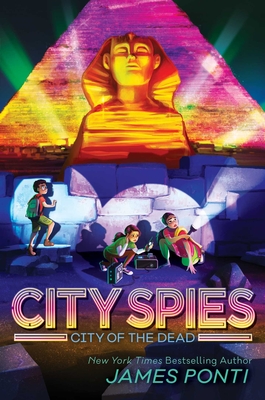 City of the Dead (City Spies #4)
Publication Date:
February 7th, 2023
Description
In this fourth installment in the New York Times bestselling series from Edgar Award winner James Ponti, the young group of spies go codebreaking in Cairo in another international adventure perfect for fans of Spy School and Mrs. Smith's Spy School for Girls.
Codename Kathmandu, better known as Kat, loves logic and order, has a favorite eight-digit number, and can spot a pattern from a mile away. So when a series of cyberattacks hits key locations in London while the spies are testing security for the British Museum, it's clear that Kat's skill for finding reason in what seems like randomness makes her the perfect candidate to lead the job.
And while the team follows the deciphered messages to Egypt and the ancient City of the Dead to discover who is behind the attacks and why, Kat soon realizes that there's another layer to the mystery.
With more players, more clues, and involving higher levels of British Intelligence than ever before, this mission is one of the most complex that the group has faced to date. And it's also going to bring about a change to the City Spies…