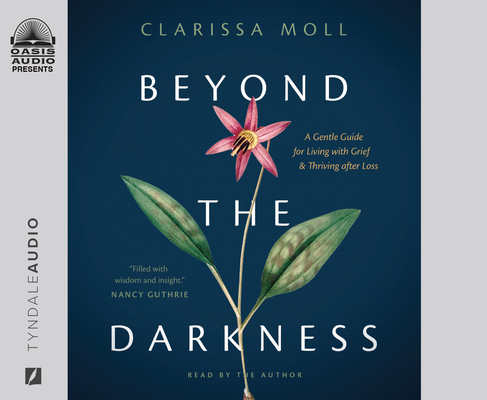 Beyond the Darkness: A Gentle Guide for Living with Grief and Thriving after Loss
Publication Date:
July 26th, 2022
Description
Sorrow is a dark and painful road. You don't need to walk it alone.
The Bible says that "God is near to the brokenhearted," but what does that look like when you're lost in the darkness of agonizing grief? How do you engage with your sorrow when the world tells you to shoulder through or move on? 
Award-winning writer and podcaster Clarissa Moll knows this landscape of loss all too well. Her life changed forever in 2019 when her husband, Rob, died unexpectedly while hiking―leaving her with four children to raise alone. In her debut book, Beyond the Darkness, Clarissa offers her powerful personal narrative as well as honest, practical wisdom that will gently guide you toward flourishing amidst your own loss. 
In the minutes of Beyond the Darkness, you'll learn how to
Meet and engage with loss in your everyday life,
Uncover the lies the world has told you about your grief, and
Point your feet toward hope and find a way to navigate your new life with loss and God beside you.
Whether you've lost someone dear to you or you're supporting a loved one as they mourn, you can learn to walk with grief. And as you do, you might be surprised to discover the path is wide enough for another companion, the Good Shepherd of your soul. Grief may walk with us for the rest of our lives, but Jesus will too.
About the Author
Clarissa Moll (MA, Trinity Evangelical Divinity School) is an author, a podcaster, and the young widow of author Rob Moll. Clarissa's writing has appeared in Christianity Today, The Gospel Coalition, RELEVANT, Modern Loss, Grief Digest and more. Her husband's first book, The Art of Dying, was released in April 2021 with Clarissa's new afterword. Clarissa is the author of Beyond the Darkness: A Gentle Guide for Living with Grief and Thriving after Loss.
Clarissa co-hosts Christianity Today's "Surprised by Grief" podcast and hosts the weekly Hope*Writers podcast. She lives a joyful life with her four children and rescue pup and proudly calls both New England and the Pacific Northwest home.