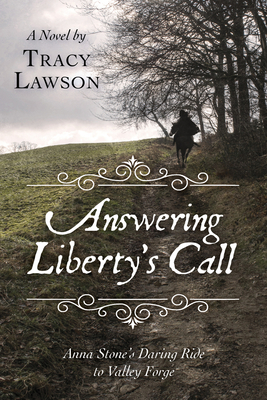 Answering Liberty's Call: Anna Stone's Daring Ride to Valley Forge: A Novel
Publication Date:
January 27th, 2021
Publisher:
Fidelis Publishing
The Winchester Book Gallery
3 on hand, as of Dec 9 8:37pm
(Fiction)
On Our Shelves Now
Description
In January 1778, Anna Stone is a twenty-nine-year-old healer, wife of a rebellious Baptist-preacher-turned-soldier, and mother of three. Her husband, Benjamin, writes from Valley Forge with worrisome tidings. Anna's brothers, Henry and Jeremiah, who are in Benjamin's unit, have contracted smallpox. Benjamin downplays the severity of their illness in his letter, which arouses Anna's suspicions that he, too, is ill. Not content to remain at home in Virginia, Anna packs food and supplies, leaves her children with family, and strikes out alone on horseback for Pennsylvania. Anna knows that, should Benjamin perish, the county orphan's court will appoint a male guardian to oversee her children's futures—without regard for her preferences. After her experience being raised under the care of a guardian, Anna vows to move heaven and earth to keep her children from suffering the same fate. In her efforts to render the aid that will hold her family together, Anna is swept into a plot that could spell dire consequences for George Washington, the Continental Army, and the new nation's quest for liberty. Answering Liberty's Call is based on family legend and events in the lives of the author's six times great-grandparents.
Praise for Answering Liberty's Call: Anna Stone's Daring Ride to Valley Forge: A Novel
"Lawson's book serves the dual purposes of providing truly enjoyable fast-paced entertainment as well as honoring the strong women whose roles in forming and protecting America will never be known but should nonetheless be remembered." —Debbie Georgatos, host of AmericaCanWeTalk
"A riveting portrait of a young woman risking her life for family and country…. [Anna's] determination and grit give this novel a voice of ambition at once unique to her and wholly American." —Jill Phillips Ingram, associate professor, Department of English, Ohio University
"With Tracy Lawson's extensively researched new book in hand, readers who love historical fiction will gallop into Valley Forge on a journey through some of the lesser known aspects of the Revolutionary War." —Lee Wright, founder, History Camp and The Pursuit of History
"Answering Liberty's Call proves the American Revolution wasn't a "men only" war. Anna, the protagonist in this great read, is a fictionalized character, but she exemplifies many of the real, courageous women to whom we owe a debt of gratitude." —LtCol Oliver L. North, USMC (Ret), bestselling author of The Rifleman and host of the Real American Heroes podcast