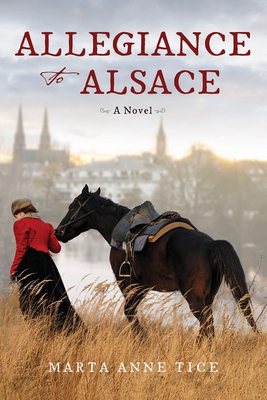 Allegiance to Alsace
Publication Date:
April 26th, 2022
Publisher:
BQB Publishing
The Winchester Book Gallery
3 on hand, as of Dec 4 8:37pm
(Fiction)
On Our Shelves Now
Description
"This is a fast moving read with well documented history.
The year is 1805. Napoleon Bonaparte is rampaging Europe for domination, threatening the eastern regions of Germany. Annaelise Theiss is the daughter of a German winemaker, Count Karl Theiss, and of a former Parisian aristocrat, Louisa Guerlain. The young heroine is torn between her mother's allegiance to the new French Regime and her father's thinking influenced by the Enlightenment from German philosophers and the American Founding Fathers. Espionage against the Emperor is everywhere.
As a young ingenue, Annaelise witnesses conflicting messages. She experiences the former glory of the French aristocracy while visiting a distant cousin in Bavaria with her family. When coming of age, her heart becomes clouded in deception and mystery. Her journey takes her further from the winery and brewery lifestyle in Alsace-Lorraine, to her father's family vineyard home in the Pfalz, Germany. It is there that she connects with her German heritage and lifestyle. The plot takes a new twist when she falls in love with a courageous French officer, Captain Hans Roster. From ballrooms to battle scenes, this spellbinding story will keep you engaged with each chapter.
". . . Readers will easily become attached to Annaelise and feel her joy and her sorrow as she lives through one of the most fascinating periods in history. If you are an avid reader of historical romance novels, you will love Allegiance to Alsace."
– JOANNE DIMAGGIO, MA, CHT, author of Soul Writing: Conversing with your Higher Self
"On a visit to the Pfalz in Germany and the Alsace-Lorraine region of France as a young girl, Marta Anne Tice had a vivid déjà vu experience of living in the eighteenth and nineteenth century. So it comes as no surprise that her novel brilliantly recreates the sparkling pageantry and powerful history of the Napoleonic era of that bygone time. A wonderful read!"
– STEFAN BECHTEL, author of Through a Glass, Darkly and Mr. Hornaday's War
The author's information and book trailer can be found on: www.martaatice.com
Contact the author through BQB or through her email: martaleapoffaith@gmail.com
Praise for Allegiance to Alsace
"For anyone who has read or watched the Outlander and Poldark series or is a fan of fine historical fiction, especially of this period of history, or for anyone who loves fiction that illustrates the struggles of the individual caught up in much larger forces and rises to be as authentic and loving as they can be, this will be an inspiriting and rewarding read." —Richard Leahy, Author of Beyond Jefferson's Vines