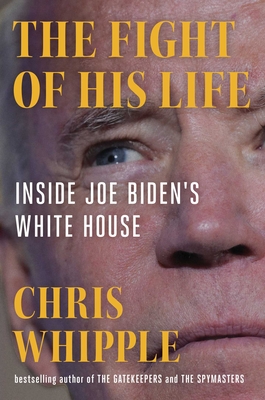 The Fight of His Life: Inside Joe Biden's White House
Publication Date:
January 17th, 2023
Usually Ships in 1 to 5 Days
Description
From the New York Times bestselling author of The Gatekeepers comes a revelatory, news-making look at how President Joe Biden and his seasoned team have battled to achieve their agenda—based on the author's extraordinary access to the White House during two years of crises at home and abroad.
In January of 2021, the Biden administration inherited the most daunting array of challenges since FDR's presidency: a lethal pandemic, a plummeting economy, an unresolved twenty-year war, and the aftermath of an attack on the Capitol that polarized the country. Waves of crises followed, including the fallout from a divisive Supreme Court, raging inflation, and Vladimir Putin's unprovoked invasion of Ukraine.
Now, in The Fight of His Life, prizewinning journalist Chris Whipple takes us inside the Oval Office as the critical decisions of Biden's presidency are being made. With remarkable access to both President Biden and his inner circle—including Chief of Staff Ron Klain, Secretary of State Antony Blinken, and CIA Director William Burns—Whipple pulls back the curtain on the internal power struggles and back-room compromises. Featuring shocking new details about how renegade Trump officials enabled the transfer of power, which key staffers really make the White House run (it's probably not who you think), why Joe Biden no longer speaks freely around his security detail, and what he really thinks of Vice President Kamala Harris, the press, and living in the White House, The Fight of His Life delivers a stunning portrait of politics on the edge.
Praise for The Fight of His Life: Inside Joe Biden's White House
"The juicy new Biden book [that] is plenty revealing." 
—Politico West Wing Playbook
"(Whipple is) exactly the person you want to talk to right now." 
—John Dickerson, CBS News 
"In this feat of a book, Whipple  assesses the Biden presidency at the halfway point [and] has managed what seems to be a first: a two-year running conversation with a White House chief of staff. Whipple's comprehensive approach adds dimension to the news stream and Whipple shines when he lets people talk…The Fight of His Life is a herculean effort. For any future writer eager to describe Biden's first two years, this will be the book cited first and most often."
—New York Times Book Review
"An inside account of the president's term…Whipple enjoys stunning access to some of the most senior policymakers in the country." 
—Washington Post  
"[An] assured account of the president's first two years in power...fascinating and timely." 
—The Guardian
"Compelling." 
—Margaret Brennan, Face the Nation
"Offers unique insights into the Administration." 
—Newsweek
"With The Fight of His Life: Inside Joe Biden's White House, Chris Whipple has taken a crack at assessing Biden midstream, and Whipple's credentials make him an excellent candidate to do so….There are many insider-y observations in [his] book. . . He is a sharp observer and sympathetic listener and deploys his access to the Biden White House to put you straight into the president's mind, the book's considerable strength." 
—Air Mail
"[A] closely observed account of the accomplished yet beleaguered Biden White House [in which] Whipple delivers a few dishy bits of inside baseball. There's more to the current administration than meets the eye, and Whipple is a reliable, readable interpreter." 
—Kirkus Reviews
"A fascinating insider's account of the first two years of the Biden administration…Whipple provides a balanced assessment of the administration's successes and failures…Distinguished by Whipple's impressive access and incisive character sketches, this is a valuable first draft of history."
—Publishers Weekly