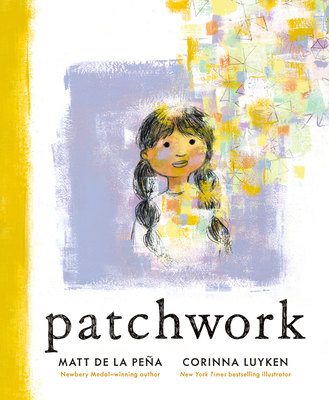 Patchwork
Publication Date:
August 30th, 2022
Publisher:
G.P. Putnam's Sons Books for Young Readers
Usually Ships in 1 to 5 Days
The artwork in this book is bright, colorful, and evokes joy. A beautifully written reminder that we can be many things. We are more 'than a single note...we are a symphony.' This book is great for first time parents or a teacher's library.
September/October 2022 Kids Indie Next List
Description
From a Newbery Medal-winning author and a New York Times bestselling illustrator comes a deeply moving ode to the complexity and uniqueness of every child.
In profound, uplifting verse and sumptuous artwork, beloved creators Matt de la Peña and Corinna Luyken explore the endless possibilities each child contains: A young dancer may grow into a computer coder; a basketball player might become a poet; a class clown may one day serve as an inspiring teacher; and today's quiet empath might be tomorrow's great leader. Here's a profound and uplifting new classic with an empowering message for readers of all ages: Your story is still being written.
Praise for Patchwork
Praise for Patchwork:
A New York Times Best Children's Book of the Year
A Kirkus Best Book of the Year
A Kids' Indie Next List Pick
A NCTE Notable Poetry Book

"In beautiful verse with artwork to match, this picture book explores the unexpected ways children might grow into themselves." —TODAY.com
"The call to revel in the glorious patchwork that is 'us' blazes forth from this paean of acceptance." —Kirkus Reviews, starred review
"Celebrates the potential found in every child . . . An apt and inspiring message, beautifully rendered." —Booklist
"An exultant picture book salute to kids who are a little different . . . De la Peña is at his compassionate best." —Shelf Awareness
"The pastel spongework patterns that Luyken overlays on these portraits of children aptly evoke de la Peña's liberating theme: We are not indelibly drawn at birth; our identities shift and blend and bloom." —The New York Times Book Review
"A poetic ode to possibility that's perfect for readers who love de la Peña's lyricism and Luyken's effortlessly impressionistic art." —BookPage
"Celebrates [kids'] capacity to explore and change . . . conveying the heartening idea that lives of meaning emerge . . . from 'mismatched scraps accumulated over time/ and stitched together/ into a kind of patchwork.' " —Publishers Weekly
"A celebration of children and what they may become as successful adults." —School Library Journal
"Gentle and affirming." —The Horn Book
"This beautiful picture book depicts the passage of time in a sort of poem—it's a true masterpiece." —Brightly
"A beautifully illustrated story of a child exploring self-identity." —The San Diego Union-Tribune