Independent Bookstore Day 2020
Independent Bookstore Day
Exclusive IBD Items

$11.55

ISBN: 9781732970403
Availability: Usually Ships in 1-5 Days
Published: IBD Publishing - April 1st, 2020
A near-future science fiction story from AMOR TOWLES! When Sam's wife first tells him about Vitek, a twenty-first-century fertility lab, he sees it as the natural next step in trying to help their future child get a "leg up" in a competitive world.
---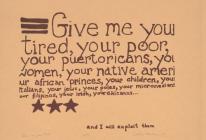 $6.99

ISBN: 9781632890597
Availability: On Our Shelves Now
Published: Independent Bookstore Day - April 25th, 2020
In collaboration with Amnesty International, Jo Rippon presents a stunning range of more than a hundred protest posters, from the iconic to the obscure. The civil rights movement, the fall of the Berlin Wall, and the global outcry against the Iraq war all make their cameos in this comprehensive collection.
---

$18.69

ISBN: 9781534316249
Availability: Usually Ships in 1-5 Days
Published: Image Comics - February 18th, 2020
Thena Khole and Cody Blue are among the universe's most-wanted felons. Each the leader of their own criminal ops, they run heists across the galaxies-hopping from ship to ship to fleece everyone inside. But when both women are betrayed by their crews, the bandits only have one thing on their minds: REVENGE. Collects SPACE BANDITS #1-5
---